Stephen King's 'Jerusalem's Lot' Adaptation Has Landed A Network And A Big Star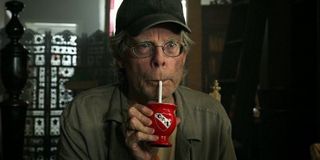 Stephen King has had quite the year. In addition to adaptations of IT Chapter Two and Doctor Sleep, which had a much lower box office reception than expected, the author's short story Jerusalem's Lot, based on his novel Salem's Lot, is not only getting a straight to series order from Epix, but has also landed a big star with Adrien Brody.
Adrien Brody, who will next be seen in Wes Anderson's The French Dispatch, is set to star as Captain Charles Boone, the story's central character. Boone is an aristocrat who moves with his three children from to Preacher's Corners, Maine and finds an old map for the deserted town of Jerusalem's Lot.
The short story was originally told through a series of journal entries. While it's unclear if that will be the case in the TV show, the adaptation will still follow Charles Boone as he sorts through old and dark family secrets that have overshadowed his family's history.
Jerusalem's Lot is a prequel story to Stephen King's 1975 novel, Salem's Lot, as well as a sequel to King's 1977 short story, One for the Road. Jerusalem's Lot was published in 1978 as part of a collection called Night Shift.
Throughout Stephen King's large repertoire of novels and stories, Jerusalem's Lot is one of three fictional towns in Maine that are often at the center of his novels. The other being the famous fictional setting of Derry, which is home to Pennywise and the rest of IT's characters. Outside of the short story, the town appears in a plethora of his other novels, including Doctor Sleep, the adaptation King called "terrific" despite box office failings.
In a statement (via The Wrap), Epix, which is also home to DC and Warner Bros.' Pennyworth, president Michael Wright had this to say about Jerusalem's Lot and Adrien Brody's casting:
Jerusalem's Lot will consist of ten episodes and the Epix series is set to begin filming in May of 2020, with Jason Filardi and Peter Filardi serving as showrunners. Currently, no other actors have been cast and a release date for the series has not been scheduled.
Stay tuned to CinemaBlend for more news on Jerusalem's Lot as it nears production. In the meantime, be sure to check out our complete guide to see what returning and new TV shows will premiere in the winter and spring of 2020.
Your Daily Blend of Entertainment News
Your Daily Blend of Entertainment News
Thank you for signing up to CinemaBlend. You will receive a verification email shortly.
There was a problem. Please refresh the page and try again.