Epix's Pennyworth Reviews Are In, Here's How The Batman Prequel Is Doing With Critics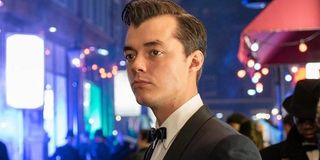 Bruno Heller's Gotham ended less than a year ago, but the creator already has another series that presents a twist on the Batman universe, the Epix drama Pennyworth. This new drama follows the iconic butler Alfred Pennyworth in his younger days with an 1960s origin different from his traditional comic background. This time, he's a former British SAS soldier who starts a security company with Thomas Wayne. It's certainly a different take on the character, but does will it make for a good TV series?
The reviews are in for Epix's latest original, but as far as Pennyworth's overall quality goes, it seems to depend on who's asked whether it's one (but not the only) great Batman-less, Bat-centered series, or just another crime drama. Below, we've pulled together a handful of reviews to give fans a better idea of what to expect from this more active time in Alfred's life.
First up is Aaron Sagers of Den of Geek, who believes Pennyworth has some real potential and could be fantastic, although says it'll have to resist the urge to make clever references in order to stay that way.
It's in Sagers' opinion that if Pennyworth can keep from leaning too far into Batman territory, it's going to be an enjoyable series. It's a big ask, though one has to wonder why Bruno Heller would create another Batman series if not to further twist and re-introduce some of these iconic characters and villains in unique ways. I'd imagine this show has plans to do some crazy tie-ins eventually; otherwise, why even make it about Alfred?
That's what Variety's Daniel D'addario is pondering, anyway, as he alleged the fact Pennyworth is directly tied to Batman is more distracting than it is intriguing. In his opinion, the series is at its best when its fully disconnected from the Batman franchise, which may be problematic for those watching and hoping for Dark Knight references. If staying only loosely associated with Batman is the goal, though, D'addario argued it may have been better than to just do the premise without any Batman connection at all.
That conclusion was drawn after having viewed the first four of Pennyworth Season 1, which will last for ten episodes, so it's implied loose Batman connections (aside from the obvious Alfred Pennyworth and Thomas Wayne) won't be springing up anytime soon. There's still plenty of season for another big name to pop into the game though, so perhaps fans shouldn't assume someone like Penguin (who will apparently appear again in The Batman) or even a character like Mad Mod won't be rearing their evil heads eventually across the pond.
Even if there are no major Batman tie-ins, however, audiences will still seeming find a lot to enjoy within Pennyworth. THR's Tim Goodman thinks the Epix original is a good, violent time. In his view, Jack Bannon's work as Alfred might be slightly familiar to fans who love Christopher Nolan's inspirational Dark Knight trilogy.
Getting compared to the legendary Michael Caine (who had his own bizarre audition for Alfred) is about as close as an actor can get to a home run, especially when it's in reference to this particular role. The shocking amount of violence is a great heads up as well, since the trailer footage did not give the impression that anything too gruesome was on the way. Anyone looking to watch this with younger audiences may want to check it out in advance.
Jack Bannon may make for an entertaining Alfred but some, like CBR's Josh Bell, have noted that not every character ends up being as memorable. Bell pointed out the villains of Pennyworth (which don't feature any well-known Batman baddies just yet) feel very generic through the first half of the season, and are generally underwhelming.
When Batman fans are used to colorful villains like The Joker and Solomon Grundy, it makes sense that a crime boss or secret organization can feel a bit generic in comparison. Pennyworth could change that by bringing in alternate versions of familiar Batman villains, but of course, that might run the risk of angering other critics who appreciate the show's limited use of Batman lore. The varying criticisms on the web right now certainly make it feel Pennyworth will be a polarizing series.
Though it has its problems that can likely never be solved for everyone at once, reviews on Pennyworth definitely trend positive. Though only just enough to currently escape a "middling" status, and there are plenty of other criticisms that may continue to plague the drama if it gets more seasons at Epix.
IGN's David Griffin perhaps said it best when explaining why audiences should tune in with his review, which speaks to the core of what this series is about.
Plainly stated, Pennyworth isn't about Batman or even Bruce Wayne. It's about Alfred Pennyworth, whose unique story could one day become as Gotham's was, if perhaps less gloriously bonkers. It's a little too soon for those comparisons though, especially when fundamental differences like episode length and "cable vs. network" differences may always keep these shows from ever being compared in earnest. Ultimately, audiences will just have to wait and see.
The 20 Biggest Gotham Deaths Of All Time, Ranked
Pennyworth premieres on Epix on Sunday, July 28 at 9:00 p.m. ET. Stick with CinemaBlend as the season continues for relevant updates on it and other news happening in the world of television and movies.
Mick likes good television, but also reality television. He grew up on Star Wars, DC, Marvel, and pro wrestling and loves to discuss and dissect most of it. He's been writing online for over a decade and never dreamed he'd be in the position he is today.
Your Daily Blend of Entertainment News
Thank you for signing up to CinemaBlend. You will receive a verification email shortly.
There was a problem. Please refresh the page and try again.