The Affair Creator Defends Nude Scene Choices After Clash With Star Ruth Wilson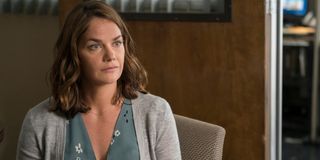 Ruth Wilson's departure from Showtime's The Affair sparked a lot of questions in 2018, with basically one co-star offering an opinion regarding the mysterious exit. Wilson's exit spurred speculation about behind the scenes drama, and a fairly recent report alleged the actress left the show after tension-filled disagreements with series creator Sarah Treem over the multitude and nature of the show's nude scenes. In an essay, Treem defended The Affair's nude scenes and more after WIlson's alleged feelings were made public.
Several sources claimed a toxic workplace environment existing on the set of The Affair was the generalized reason behind Ruth Wilson's exit. In the initial report, first released by THR, sources alleged that Wilson, who claimed she couldn't talk about why she left the show due to signing an NDA, expressed concern about the frequency of nude scenes. According to one source, showrunner Sarah Treem was tone-deaf regarding the "position she was putting actors in."
Sarah Treem denied the accusations saying she made The Affair's actors uncomfortable, or that she pressured them into doing nude scenes. In her own words (via Deadline), Treem revealed her side of the story and defended her stance regarding nudity, sex scenes, and her working relationship with Ruth Wilson:
Sarah Treem went on to say that she didn't always agree with Ruth Wilson in terms of sex scenes and what was best for the show, but that she did have respect for Wilson and her craft. That's why she says she worked to collaborate with the actress to change the nature of certain scenes that Wilson didn't approve of.
Claiming that Showtime execs asked her to write Ruth Wilson's Alison out of the show following the third season, Sarah Treem went into detail about her final clash with Wilson, as it were, which centered on the penultimate Season 4 installment, where Alison is murdered. (Because there was no way Alison could walk off into the sunset at this point.) As it was originally conceived, Treem wanted Alison to be in a reverse situation from where her story began on The Affair, with Treem's own past informing some of it.
Sarah Treem hoped for Alison's final episode to mark a meaningful exit, but her alleged intentions weren't embraced by Wilson or her publicists, and viewers ended up getting the truncated scene that was aired. Here's how Treem described it:
Sarah Treem admits that she and Ruth Wilson clashed a lot on the direction of Alison and often disagreed on how things went for the character in general. However, Treem says that that's not the "same thing as not respecting or supporting an actress's need to feel safe in her work environment, which is something I always take incredibly seriously," essentially denying the allegations that the workplace environment was toxic.
The Affair recently ended its five-season run on Showtime. Stay tuned to CinemaBlend for the latest regarding this story. In the meantime, be sure to check out our midseason schedule to see what's new and returning to TV in 2020.
Your Daily Blend of Entertainment News