The Biggest TV Deaths Of 2018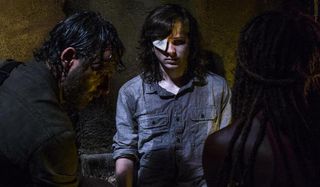 Grab your tissues and prepare for a blast from the bloody TV past of 2018! This past year had its highs and lows on the small screen, and no shortage of characters bit the dust on their various shows. Some deaths happened because characters had run their course, while others went down for reasons having to do with the actor rather than the story. Some were devastating and shocking, and some were deaths that fans saw coming for a long time.
Now, as the 2019 television season gets into gear, the time is right to look back at the biggest and most impactful TV deaths of 2018! WARNING: MASSIVE SPOILERS FOR A BUNCH OF SHOWS LIE AHEAD.
Martin Riggs, Lethal Weapon
In the case of Martin Riggs on Lethal Weapon, the big death happened because the show needed a way to write out actor Clayne Crawford without really leaving the door open for the character return. After allegations of misconduct from Crawford on the set of Lethal Weapon (with some seriously NSFW audio seemingly backing up those allegations), the decision was made to fire Crawford and attempt to continue to show without one half of the legendary Riggs/Murtaugh dynamic.
The Season 3 premiere revealed that Riggs had died in the Season 2 cliffhanger, and Murtaugh got a fun new partner in the form of Seann William Scott's Cole.
Alvin Olinsky, Chicago P.D.
Chicago P.D. shocked and alarmed viewers in the penultimate episode of Season 5 when the wrongfully-imprisoned Olinsky was jumped by another inmate and stabbed repeatedly. The Season 5 finale revealed that Olinsky had died from his injuries, which prompted Voight -- who was pretty much responsible for Olinsky being in the clink in the first place -- to cross a lot of lines to try and avenge his friend.
As executive producer Rick Eid said, Olinsky didn't have to die, and that made the twist all the more tragic. Only time will tell if and how Olinsky's death will continue to haunt Voight moving forward.
Jack Pearson, This Is Us
If there was one TV tragedy of 2018 that everybody saw coming, that tragedy has to be the death of Jack Pearson on This Is Us. Viewers have known from the very first episode of the series that Jack had died long before the present day action, and the only question was of what happened that he passed away. Well, after lots of hints and teases, Season 2 finally revealed what happened: a faulty Crock-Pot sparked a fire in the Pearson household.
Jack didn't actually die in the fire, and the whole family (and their dog) made it out alive. It wasn't until Jack was at the hospital that the effects of the smoke got to him, and he died of heart failure.
Gabriel, Supernatural
Supernatural is known for its habit of killing off characters and then bringing them back, whether to life or as ghosts or as doppelgangers from another world. Gabriel, also known as Loki and the Trickster, was one character that seemed to die only to pop back up alive years later in Season 13. Unfortunately, he didn't last long. Good old Gabe decided that he was done living a listless existence and joined the Winchester boys in a move that would ultimately result in his death.
Gabriel traveled to Apocalypse World with the Winchesters on their quest to rescue Jack and Mary, but the group was stopped by Michael before they could escape to their own world. Although the mischievous archangel decided to face off against Michael, he was killed in the process, and his angel wings were burned into the ground of Apocalypse World. R.I.P. Gabriel!
Roseanne Conner, Roseanne/The Conners
2018 was a wild year for the Conner family. They returned to primetime with a Roseanne revival back in March, receiving massive ratings and a quick renewal from ABC, with all signs pointing toward a long future back on the airwaves. That is, until leading lady Roseanne Barr fired off a controversial tweet that resulted in the mega-hit comedy getting the axe. ABC found a way to bring the rest of the family back, however, with The Conners spinoff, and that spinoff killed off Roseanne.
Roseanne Conner technically died between the end of Roseanne and the beginning of The Conners, and Roseanne Barr spoiled how the character was being killed off before the spinoff even premiered. Barr revealed that her character died due to an opioid overdose. Her addiction to painkillers was set up on Roseanne, and The Conners went ahead and used it as the way to get rid of the character for good.
Carl Grimes, The Walking Dead
If there was one TV death from the 2017-2018 TV season that few people saw coming, that death is almost certainly Carl Grimes on The Walking Dead. The character was pivotal to the show for the majority of the series, and many saw him as the future of the zombie apocalypse. Throw in the fact that his comics counterpart is still alive and actor Chandler Riggs' efforts to prevent the twist from being spoiled, and who could have seen Carl's death via zombie bite coming?
Carl received his bite in the Season 8 midseason finale in 2017, and it was clear to fans that he was going to die when the show returned. Unlike characters like Hershel, Carl was bitten on the torso, which couldn't exactly be amputated to stop the zombie virus from spreading. Carl Grimes died in the 2018 midseason premiere, shooting himself in the head to prevent himself from turning.
Teddy, Westworld
When Westworld kicked off in Season 1, Teddy was more of a cowboy-in-shining-armor for Dolores than one of the many characters with a horrifyingly dark side, and that made his demise in Season 2 all the more tragic. While he was part of Dolores' Host revolution against the humans, she realized that his personality wouldn't allow him to be ruthless enough to survive, so she hijacked his programming and changed him. Ah, true love.
Despite Dolores' intention that the changes would allow Teddy to survive, he wound up unable to live with the knowledge that she had changed him and he had become a monster. Still, he could not hurt his beloved Dolores, so he pulled out a revolver and shot himself in the head in front of her, devastating Dolores and undoubtedly shocking many viewers.
Alison, The Affair
The Affair killed off one of its four main characters before the end of Season 4, and there was as much mystery about what went down on the show as what went down behind the scenes. Season 4 revealed that Alison was dead without actually showing her death, with the explanation being that she committed suicide by drowning herself near her home. The show suggested that there may be much more to her death than suicide, but only time will tell. As for behind-the-scenes...
Well, actress Ruth Wilson -- who wanted Alison's journey to end very differently -- has said that she's not allowed to talk about why she wanted to leave The Affair, although she did state that it had nothing to do with pay parity. We may never know the real reason.
Fitz, Agents Of S.H.I.E.L.D.
Agents of S.H.I.E.L.D. ended its fifth season on a tragic note with the death of poor Fitz and the looming demise of Phil Coulson. Fitz had spent a big chunk of the season on a desperate mission to travel to the future to reunite with and help the rest of the S.H.I.E.L.D. agents, including his lady love Simmons. It became clear that his dark Doctor half was still present, and he did the unthinkable to Daisy.
Fitz did have some high notes in Season 5, as he finally married Simmons in a very sweet ceremony attended by their grandson, although neither he nor they knew it at the time. Sadly, they were not to enjoy a happily ever after, as Fitz was pinned beneath debris after a shock wave destroyed a building in the finale, and Mack and May were unable to save him. Simmons is a widow shortly after she became a wife. At least there is a plan in place to retrieve a still-living version of Fitz in Season 6!
Frank Underwood, House Of Cards
The end seemed nigh for House of Cards after star Kevin Spacey was accused of sexual misconduct, but Netflix kept the show going for one more season with Robin Wright stepping up as the lead actor. With Claire Underwood as President of the United States, that left the question of Frank. Well, Netflix didn't even wait for the new (and final) season to premiere before revealing that he had died. The question remained of how.
Well, the series finale revealed that it was none other than Doug Stamper who killed Frank, via an overdose of Frank's liver medication. The tables turned on Stamper when Claire stabbed him with a letter opener, killing him... in the Oval Office, in true House of Cards style. Kevin Spacey's recent bizarre video in the style of Frank Underwood probably isn't going to result in a resurrection for Frank or the series.
Hidoko, NCIS: Los Angeles
When NCIS: Los Angeles introduced new characters Shay Mosley and Harley Hidoko back in Season 9, it seemed like fans were in for two characters who would be around for the long run. The Season 9 finale, however, ended with the possibility that Hidoko had died in Mexico on the mission to rescue Mosley's son, although the pile of burnt bones wasn't confirmed as hers until the Season 10 premiere. Yes, Hidoko died after only one season as part of the team.
While none of the NCIS shows are strangers to killing off characters, Hidoko really felt like one with a lot of story left to tell. There were big questions about her past that seemed primed for exploration in Season 10 or beyond, and it was difficult to accept over hiatus that the show would really kill her off off-screen without ceremony. Alas, Hidoko really did die.
Beatrice Horseman, BoJack Horseman
2018 saw the demise of none other than Beatrice Horseman on BoJack Horseman. BoJack's mother was a conflicting character whose scenes ranged from darkly hilarious to depressingly dark, and her slow demise due to dementia was difficult to watch, especially as BoJack insisted that she was faking her dementia. Her death didn't come as a shock and not a whole lot of characters mourned her, but it did lead to the standout episode of Season 5, called "Free Churro."
Like "Fish Out of Water," "Free Churro" broke BoJack's usual format as BoJack delivered a eulogy for his mother. The episode switched between flashbacks and BoJack's actual eulogy, which was angry, heartbroken, confused, and desperate as he wondered what her final clear words to him meant.
Nell Crain, The Haunting Of Hill House
The Haunting of Hill House on Netflix was a series that managed to intertwine heart with all the horror so that audiences would be invested in the Crain family, and the show was never more successful in packing an emotional punch than with the fifth episode of the series, called "The Bent-Neck Lady." That episode saw the troubled Nell Crain return to Hill House, where she was confronted by visions of her family, including a sober version of her addict of a twin brother and her deceased husband.
If that didn't already have the waterworks going and viewers reaching for the tissues, Nell's interactions with the ghost of her mom were heartbreaking, as Nell thought they were simply reuniting when her mom was really orchestrating Nell's "suicide." Nell died after her mother pushed her off a staircase, hanged to death by a noose that she'd thought was a necklace.
Quentin Lance, Arrow
The final battle against Ricardo Diaz in Arrow Season 6 was not without consequences for Team Arrow, and one result was more dire than Oliver winding up in prison. Quentin Lance was shot in an effort to save Earth-2 Laurel Lance from Diaz, and although he was successful in preventing her death, his gunshot wound proved fatal. Despite the good guys believing he would survive, something went wrong during surgery, and he passed away in the hospital shortly before Sara arrived from Legends of Tomorrow for a goodbye.
Quentin's death likely didn't come as a shock to Arrow fans who kept up with news of the show, as it had already been announced that actor Paul Blackthorne was leaving the series. It was possible that Arrow would find a way to write him out without killing him, but many fans knew to prepare themselves for his potential death.
Madison, Fear The Walking Dead
Fear the Walking Dead Season 4 was a bloodbath for the Clark family, first with the reveal of Nick's death and then the ultimate reveal that Madison had died, explaining why she was entirely absent from the present timeline. Of the original Clark clan, only Alicia is left standing. Although Madison died prior to the present timeline in Fear, her death wasn't revealed until the midseason finale, when viewers learned that she had sacrificed herself to save her children.
Alas, Nick didn't survive in the long run, but Madison's decision to distract a zombie horde with a flare and then sacrifice herself to give Alicia and Co. time to escape did at least keep one of her kids alive. The death wasn't altogether surprising after her notable absence from the presence, although it was a shock for actress Kim Dickens.
Klaus And Elijah, The Originals
Well, let it not be said that The Vampire Diaries/The Originals showrunner Julie Plec is afraid to end series on controversial notes! The series finale of The Originals in summer 2018 saw Klaus find some degree of redemption, and thus Elijah's goal to redeem his brother was achieved. This did not lead to either bro getting a happily-ever-after with their loved-ones, however.
Klaus was going to die, and Elijah decided that he was going to follow Klaus once more. The brothers staked each other in the final moments of the finale, dying together. For some fans, it was a fitting end for Klaus and Elijah, but some weren't so happy that there was no reveal of where they ended up in the afterlife. Klaroline shippers weren't too pleased either! At least Legacies delivered some Originals closure for Klaus.
More TV deaths are undoubtedly on the way in 2019. For your viewing options now and in the not-too-distant future, be sure to check out our midseason TV premiere guide.
Your Daily Blend of Entertainment News
Laura turned a lifelong love of television into a valid reason to write and think about TV on a daily basis. She's not a doctor, lawyer, or detective, but watches a lot of them in primetime. Resident of One Chicago, the galaxy far, far away, and Northeast Ohio. Will not time travel, but will sneak references to The X-Files into daily conversation.