Jeopardy Champ Ken Jennings Reveals How He's Preparing To Face James Holzhauer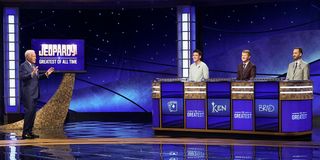 Jeopardy! champion Ken Jennings is returning next week to the beloved game show for a special tournament called Greatest of All Time (G.O.A.T.). The once-in-a-lifetime challenge is bringing together the three biggest all-time winners of Jeopardy!, and Jennings recently revealed exactly how he's been preparing to face one of his biggest competitors, James Holzhauer.
Ken Jennings won a whopping $3,370,700 across all his Jeopardy! wins (both regular games and tournaments), and holds a record 74-day winning streak, but even though he's excited about being back, he said he's been practicing for months. Jennings had to get reacquainted with using the Jeopardy! buzzer again, and that's one thing he hopes will help him beat fellow champion James Holzhauer. Here's what Jennings said:
Ken Jennings isn't just a winner, he's a huge Jeopardy! and Alex Trebek fan in general. But timing the buzzer to the answer is of utmost importance to him because he knows better than anyone how good and methodical James Holzhauer is at uncannily buzzing in at the right time. Speaking with Seattle Refined, Jennings said that it's Holzhauer's accuracy that scares him because "James has 98% of question-answering correctness" and that's impressive. So, for Jennings, that buzzer is key to blocking Holzhauer from getting a chance to answer.
The three-day tournament is a huge deal in the game-show world, and will also include Jeopardy!'s biggest winner ever, Brad Rutter, who technically earned more money than Ken Jennings, but knows why he's less popular. The first of the champions to win three matches will get the grand prize of $1 million, while the runner-ups will each be given sizable consolation prizes of $250,000.
For Ken Jennings, Brad Rutter is very much his biggest competition — he's also "unbeatable" at the buzzer — having taken Jennings down in three different tournaments. But Jennings believes he needs to stay comfortable and keep a cool head when it comes to competing with Rutter, who always maintains his calmness. All I know is that it'll be enthralling to watch all three of the former Jeopardy! champions in their most competitive tournament ever.
Jeopardy's G.O.A.T. competition will be held over the course of three days initially, with more nights added if needed, and will begin its rare trip to primetime on Tuesday, January 7, at 8 p.m. ET. For more on what to watch, be sure to check out our midseason schedule.
Your Daily Blend of Entertainment News