If Fox Remakes 24 Again, Everyone Knows It Needs To Be 'The Right Story'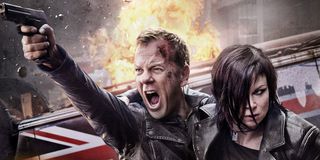 Fox's 24 is one of those properties with a premise that is recognizable to fans. Although Kiefer Sutherland's Jack Bauer has been a key factor in the success of 24 over the years, the network always has ideas in mind for other ways to reboot 24 and word on the street is that Fox really wants to make a new series happen.
Speaking out at TCA this year, original 24 creator Howard Gordon revealed that more 24 does seem to be on Fox's radar. In addition, he revealed some details on what is going on with the potential project, but noted he is more interested than involved, stating,
What I like about Howard Gordon's reveal about the network's point of view is the part about it having to be "worth doing." The series originally ran between 2001 and 2010 (a lengthy run for any TV show) and has been revived twice since then. The first time came in 24: Live Another Day, which aired in 2014 and starred Kiefer Sutherland as Jack Bauer. The second, 24: Legacy starred Corey Hawkins and other new characters.
The big difference between the two is Jack Bauer in the first and the lack of Jack Bauer in the second. As an event series with Kiefer Sutherland, 24: Live Another Day is fairly well thought of by the critics and nabbed good ratings. 24: Legacy was middlingly reviewed and was cancelled after one season. So "worth doing" seems to be a particularly germane component to Howard Gordan's comments to Deadline.
*What Else We Know About A Possible 24 Reboot *
To be clear, Fox knows people have fond feelings about 24. A while ago, news broke that the network had not one but two possible projects set in the world of the series in the works. While at TCA, the network actually confirmed those two projects but tragically also noted they won't be moving forward.
At that time, Fox did say more 24 was a cool idea and not dead in the water. In fact, after the Howard Gordon interview, Deadline did ask around and confirmed any revival or reboot is still prelimary, which squares with Gordon saying he was only loosely in the know.
Would Kiefer Sutherland Play Jack Bauer Again?
To be honest, Kiefer Sutherland has been really wishy washy about potentially ever returning to play Jack Bauer. Back in 2016, when Legacy was still a thing, Bauer was not present, and Kiefer Sutherland had to answer plenty of questions about the possibility of ever cameoing, giving varying answers depending on the timeframe. Then the show was cancelled and the question became moot anyway.
But here's what the actor previously said. First, at the end of Live Another Day, he was bluntly saying he wouldn't be back. Then he was all into the, nah I'm not really needed opinion, noting the show was great and that they wouldn't need him then also mentioning he'd "said that twice" and still returned to play the character both times, which gave fans hope.
Cut to later in 2016 when he said there were no plans for Jack Bauer to make a comeback. Now, time has passed with no 24 at all.
So never say never, but never get your hopes up either is the lesson I'm taking from all of this.
While Kiefer Sutherland's schedule might seem wide open to those not up to date after Designated Survivor's cancellation, the actor is going to be back in the action game for The Fugitive, a TV remake of the popular movie. That will be hitting schedules in 2020 of this year. For more on this year's premiere, take a look at our midseason TV schedule. Now, I have to ask...
This poll is no longer available.
Reality TV fan with a pinch of Disney fairy dust thrown in. Theme park junkie. If you've created a rom-com I've probably watched it.
Your Daily Blend of Entertainment News
Thank you for signing up to CinemaBlend. You will receive a verification email shortly.
There was a problem. Please refresh the page and try again.