SNL's Frozen 2 'Deleted Scenes' Show Elsa Come Out As Gay While Olaf, Um, Grows Up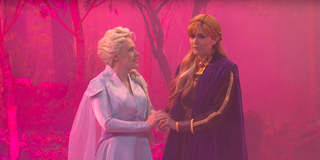 Saturday Night Live has created a legacy around parodying pop culture in a way that often pushes the envelope. That was never more true than when it took on Disney's latest blockbuster Frozen 2. In a skit that showcased several "deleted scenes" from the film, SNL gave us what fans have been asking for -- Elsa finally coming out -- and what absolutely no one wants -- a much more adult version of Olaf.
The sketch, which is designed like a commercial for the Frozen 2 Blu-Ray and DVD, shows sneak peeks of several scenes and original songs that were cut from the theatrical version. And it quickly becomes abundantly clear why that was the case.
The first deleted scene features Elsa, dropping some not-so-subtle hints that she is gay. When she encounters Anna in the forest, she tells her sister, "I don't know if we're heading north, south, gay, or west." Anna then breaks into song, telling her older sister, "We all know, we all know, we've all known since you were a tween when you dressed as Brienne of Tarth on three separate Halloweens" to the tune of "Let it Go." Elsa chimes in at the end, singing, "The lack of any romantic interest doesn't bother me anyway."
In another deleted scene, Kristoff and Anna sing a, uh, sweet duet, "Big and Woke," celebrating the fact that he's sensitive to her, um, needs. Then, we see the film trying to address accusations about a lack of diversity by shoehorning Keenan Thompson's royal guard Mattias into a scene (despite his own dubiousness that he would exist in 19th century rural Norway).
And in a final deleted moment, Olaf wanders in with not one but two carrots attached to his body. The first is where his nose should be, and the other is a bit more strategically placed. When Kristoff asks about the new addition to his body, the snowman tells him it's there because he's "growing up before your very eyes!" The fictitious commercial ends with a sheepish, "Tell your kids we're sorry." Check it out:
The whole SNL sketch feels partly like a response to the criticism that's been leveled at Frozen 2 since its release, and partly like a tongue-in-cheek condemnation of the wildly popular sequel. The first deleted scene, in particular, feels like a pretty scathing commentary on the way the film danced around Elsa's sexuality. In another moment, Elsa remarks that she doesn't think the storyline is very good, which was also a frequent complaint from critics who found the film lacking.
Despite the criticism, Frozen 2 has managed to connect with audiences worldwide. The film has had an incredible run at the box office -- and though it failed to get an Academy Award nomination for Best Animated Film, its anthemic original song "Into the Unknown" did score a nod.
The real Frozen 2 Blu-Ray and DVD (that most certainly will not feature any of these deleted scenes) will hit shelves on February 11, 2020.
Your Daily Blend of Entertainment News
Thank you for signing up to CinemaBlend. You will receive a verification email shortly.
There was a problem. Please refresh the page and try again.