Survivor's Richard Hatch Bluntly Claims Jeff Probst Is Duping Viewers After Not Getting Asked Back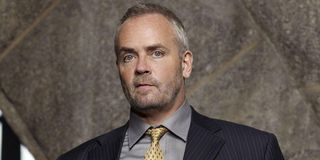 Survivor Season 1 winner Richard Hatch may not be coming back for the upcoming season of the CBS competition series, but that hasn't stopped him from talking about his feelings related to Season 40 and what allegedly happened behind the scenes at all. In a blunt new interview he, in fact, took some pot shots at Survivor host Jeff Probst and his level of authority on the show. He also claims the Survivor host is trying to "dupe" viewers.
Speaking on his own personal YouTube page, Richard Hatch says that he was actually asked for Season 40 of Survivor, which is rolling with the subtitle Winners at War. This actually does gel with what Jeff Probst mentioned the other day when he said the show had been in contact with Hatch. However, from there, the two narratives differ quite a bit.
According to Hatch's side of the story, he was approached and was legitimately asked to join Season 40. Not only that, but he says the executives wanted him on board and the producers wanted him on board. He even notes he actually spent time thinking about the prospect, admitting he's "old" now, but he ultimately passed the physical. Then he got a call that he was out and thought it was a joke at first. Now he says Jeff Probst is trying to "scapegoat" him and he doesn't know why. So he made a video noting:
In the lengthy video, Richard Hatch says Survivor made a "horrendous mistake," also noting he thought he was in for Season 40 to the point where he had even dropped out of his PHD program to make filming work. He was allegedly only told two days before filming that he was out of the new season and he says it was because Survivor was worried he might do something to inspire backlash similar to what the show saw in Season 39. But he says the show "benefitted from my boldness" until the nature of TV changed.
During his time on Survivor, Richard Hatch was often a polarizing figure and he was known for completing some challenges naked, but anything he did as a reality TV figure was not similar to what happened during Season 39, when Dan Silo was unceremoniously removed from the show after allegedly inappropriately touching both female contestants and a female producer.
In fact, to Richard Hatch, being naked on TV is not the same thing as inappropriately touching and harassing women on the set of the show. (To note, Hatch is openly gay and was previously married to Emiliano Cabral until 2017.) He also said in his video:
It's hard to tell if Richard Hatch enjoying being in the buff had anything to do with what he and Jeff Probst say ultimately went down related to Survivor Season 40. In a recent interview, Jeff Probst did bring up the contestant getting naked and how the show "would never let him run a challenge naked now." But Hatch contests this idea, saying the producers have all the say during the filming of the reality competition series and if they didn't want him to be naked during past seasons they would have just told him so.
Previously, Jeff Probst also mentioned the reality star's history on the show, although it was unclear if he was just bringing in on-screen antics or talking about Richard Hatch in general. It is worth pointing out that what is different about Richard Hatch compared to most other Survivor contestants is that the Season 1 winner did spend time in jail after reportedly not paying taxes on his winnings.
Although both Jeff Probst and Richard Hatch seem to have feelings on the matter, the end result is that Hatch will not be one of the 20 contestants who will be back for the show's big anniversary season. There are a lot of notable names in that group, however, and it does make me wonder if perhaps this would have been the last chance for Richard Hatch to come back and compete and see if he is still among the best. After all, at 58, he's not exactly a spring chicken anymore. Survivor: Winners At War will premiere on February 12 at 8 p.m. ET, only on CBS. See more big winter premiere dates with our full schedule.
That said, this Hatchless version of Survivor still sounds pretty cool, but I have to ask, will you miss the contestant at all? And do you prefer the ways in which reality TV used to be played? Let us know.
This poll is no longer available.
Your Daily Blend of Entertainment News
Reality TV fan with a pinch of Disney fairy dust thrown in. Theme park junkie. If you've created a rom-com I've probably watched it.
Your Daily Blend of Entertainment News
Thank you for signing up to CinemaBlend. You will receive a verification email shortly.
There was a problem. Please refresh the page and try again.