Celebrity Apprentice Contestant Richard Hatch Headed Back To Prison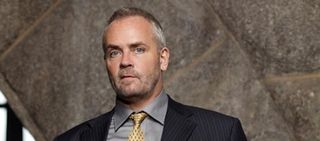 If you caught the premiere of Celebrity Apprentice this week then you know former Survivor winner Richard Hatch is among the contestants competing this season (and that he's already making waves). From this latest bit of news, it seems unlikely that he'll get to see much more of the season play out on TV, and we probably shouldn't expect him to appear at the finale.
E! Online posted the news on Hatch's legal troubles, stating that he has been ordered back to federal prison as a punishment for failing to fulfill the terms of his supervised release following more than three years of time served behind bars for not paying taxes on his Survivor winnings. E! has more details on the court situation, and the nine-month prison sentence, which starts Monday.
How will this affect The Celebrity Apprentice? Well, for the most part, it won't. According to E! News, all but the finale of the NBC reality competition series has been filmed. It seems unlikely that Hatch will be able to appear at the live finale, which is scheduled for May 22nd.
We don't know how far Hatch will make it in the competition, but given how he acted in the season premiere, I would be genuinely surprised if he made it far beyond the halfway point, let alone to the final two. His antics, which involved a bit of mild but noticeable bullying toward fellow contestant David Cassidy (resulting in Cassidy's elimination), are good for entertainment value but I can't imagine it'll get him far in the competition. Then again, who knows how things will play out?