Survivor: Winners At War Is Bringing Back These 20 Champions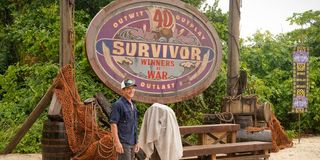 With $2 million on the line, CBS is bringing the winners of one of its most popular competition shows together for Survivor: Winners At War. Champions both recent and not so recent will go back to the game and battle it out in a truly epic and lucrative Season 40 of the series.
Yes, Survivor has been on for 40 seasons, and while some may have been along for the ride every step of the way, others may have been in and out. With that in mind, here's a breakdown of those competing, which season they won in, and the things they were most known for during their runs.
Adam Klein - Tribe Sele
Adam Klein isn't just the winner of Survivor: Millennials vs. Gen X. He was the winner by unanimous decision. Klein received all 10 jury votes in Season 33 for his artful play in getting David Wright eliminated, when he stood a good chance of winning otherwise. Klein donated $100,000 of his winnings to Stand Up To Cancer in honor of his mother, who passed from the illness shortly after he arrived home from the competition.
Amber Mariano - Tribe Dakal
Survivor: The Australian Outback jury member and Survivor: All Stars winner Amber Mariano had one of the more interesting runs in the show, as her alliance with future husband Rob Mariano helped orchestrate her win in her second outing. Rob took Amber with him to the final 2, and before the vote was read, asked for her hand in marriage. Amber said yes and now the duo are back but in separate tribes to start Survivor: Winners At War.
Ben Driebergen - Tribe Sele
Ben Driebergen comes into Survivor: Winners At War as the winner of Season 35's Heroes v. Healers v. Hustlers. While his social game was criticized by fellow competitors, Driebergen was dominant in finding immunity idols when it mattered. He successfully saved himself at three tribal councils, and eventually found his way to the Final 3 after winning a fire-making challenge. Some winners make their own luck, and Driebergen is certainly evidence of that.
Danni Boatwright - Tribe Sele
Danni Boatwright will return to Survivor for the first time in 15 years after winning it all in Survivor: Guatemala. Survivor's Jeff Probst mentioned Boatwright as a sleeper favorite to win Survivor: Winners At War, potentially due to her being underestimated by other competitors. That may be due to the long gap between Guatemala and Winners At War, but also due to her win being the result of runner up Stephenie LaGrossa losing many votes due to a poor social game. Boatwright will have a chance to prove skeptics wrong in Survivor: Winners At War.
Denise Stapley - Tribe Sele
Season 25 winner of Survivor: Philippines, Denise Stapley is one of the oldest women to win in the show's history. Her win came after surviving a disastrous early game, in which all but one of her fellow tribe members were all voted out in four consecutive losses. Stapley had the rare occurrence at being present at every tribal council that season, and somehow managed to squeeze out a victory in the end.
Ethan Zohn - Tribe Sele
Survivor: Africa winner Ethan Zohn won through strong alliances, which he maintained pretty well throughout the course of his game. It put a target on his back during Survivor: All-Stars, though Zohn's physical abilities for challenges kept him in the game longer than others. Zohn eventually finished 11th in All-Stars, but with all entrants in Survivor: Winners At War coming in as winners, his weakness may be eliminated.
Jeremy Collins - Tribe Sele
After a 10th place exit in Survivor: San Juan del Sur, Jeremy Collins returned in Season 31 to win Survivor: Cambodia. Collins was another unanimous jury vote for his win, and was commended by tribe members for playing the game with integrity. That's a rare thing to see in reality television, and something that will surely help Collins gain the trust of others in Survivor: Winners At War.
Kim Spradlin-Wolfe - Tribe Dakal
This Survivor: One World winner is considered by some to have the best strategy in the game's history. She laid low, but somehow stayed on top of all situations before ending up in the final three. She also did it without making many waves, or utilizing any tactics that viewers may consider a bit devious. Kim's win is well-known amongst the Survivor crowd, so expect contestants to be on the lookout for her early on.
Michele Fitzgerald - Tribe Sele
Michele Fitzgerald got her win at Survivor: Kaôh Rong being the only competitor in Season 32 to win immunity twice. Fitzgerald started out as a relatively weak player in the competition, but obviously grew stronger throughout the game to where she eventually ended up winning it all. Perhaps a slow start will serve her well during Survivor: Winners At War?
Natalie Anderson - Tribe Sele
Survivor: San Juan del Sur started with Natalie Anderson eliminating her sister Nadiya in the first competition, and she was unstoppable from there. Even being sent to Exile Island twice wouldn't keep her out of the running, and she eventually earned the title of Sole Survivor with five votes. There will be no siblings for Anderson to crush in Survivor: Winners At War, but she should do fine regardless.
Nick Wilson - Tribe Dakal
Nick Wilson looked fated for the first elimination in Survivor: David vs. Goliath, but the medical evac of Pat Cusack spared the "lazy" player from the chopping block in the eleventh hour. Wilson then went big on alliances, so much so that he became one of the select number of Survivor winners to win the game without having a single vote cast against him in tribal council. His alliance-making ability may serve him well amongst all these winners, provided his past pattern of gameplay doesn't make him a quick target.
Parvati Shallow - Tribe Sele
A veteran of Survivor: Cook Islands, a runner-up of Heroes vs. Villains, and winner of Micronesia, Parvati Shallow is one of the greats of the game. She's known as a game player through and through and will do what she needs to come out on top. Survivor fans will remember she was part of the Black Widow alliance that, against all odds, convinced a player to give away his immunity in the penultimate episode only to vote him out immediately after. She'll have a big target on her back in the competition, but will anyone be brave enough to take a shot at her?
Rob Mariano - Tribe Sele
Survivor: Winners At War will mark Boston Rob Mariano's 6th appearance on the CBS series (he's also done a fair amount of television elsewhere), but his 5th time competing. Rob Mariano is viewed as the master of the "goat herding" strategy, and successfully brought two ineffective players with him to the finals in Survivor: Redemption Island. It would be surprising if Rob wasn't an early target in the game, especially considering his wife Amber is also in the game.
Sandra Diaz-Twine - Tribe Dakal
Unless someone else wins Survivor: Winners At War, Sandra is the winningest player in game history. She had victories in Survivor: Pearl Islands and Survivor: Heroes vs. Villains. She didn't get so lucky in her third appearance, as Survivor: Game Changers was smart enough to get the two-time champ out of the picture before things got out of control. It's hard to imagine she won't be another early target in the new season, but Sandra should be able to tough it out for a bit.
Sarah Lacina - Tribe Dakal
Sarah Lacina became the first jury member of Survivor: Cagayan and later became Sole Survivor in Survivor: Game Changers. Her win was a result of being the deciding vote several times in the mid-to-late game, and it earned her a reputation in the game as a backstabber. Though slightly damaging, it wasn't all so bad that Sarah ended up missing out on a victory, though Survivor: Winners At War entrants may be leery about forming an alliance with her.
Sophie Georgina Clarke - Tribe Dakal
A winner of Survivor: South Pacific, Sophie Clarke won it out through dominance in competitions, and by remaining loyal to her Day One alliance. Of course, most teams that form a five-person alliance and stay loyal will have a solid chance at winning, though Clarke definitely deserves credit for her comp wins. If she can form a solid alliance with other winners on the first night of Winners At War, she may have another chance to control her destiny in the game.
Anthony "Tony" Vlachos - Tribe Dakal
Reckless players don't often last long in reality competition shows, but Tony Vlachos is an exception to that rule. The Survivor: Game Changers participant and Cagayan winner was ruthless in his play style, and frequently went back on promises and swayed players to target anyone he believed to be a personal threat. It takes a special kind of person to play that aggressively, though obviously his exit in Game Changers shows it doesn't always work.
Tyson Apostol - Tribe Dakal
A three-time Survivor veteran ahead of Survivor: Winners At War, Tyson Apostol finally won the game in his third appearance in Blood vs. Water. His three runs (which include Tocantins and Heroes vs. Villains) may be proof that either Survivor can go differently for a player each time they participate, or that contestants eventually learn a little more with each time on the show. If the latter is true, perhaps Apostol will find himself another victory here soon?
Wendell Holland - Tribe Dakal
Season 36 champion Wendell Holland became the winner of Survivor: Ghost Island after the show's first instance of a tie. Holland's laid back social game ended up getting him to that point, though obviously there was some dispute in the jury whether he deserved to be the winner more than runner up Domenick Abbate. Third finalist Laurel Johnson was the tiebreaker, and managed to get Holland the win.
Yul Kwon - Tribe Dakal
Yul Kwon has the second longest gap in Survivor appearances with his initial win coming just one year after Danni Boatwright's victory. Kwon was a part of the controversial Survivor: Cook Islands, which divided tribes by race at the start of the season. Yul's social game was a the key to his victory in the competition, and while the vote was close, he edged out a victory. Much like Boatwright, Kwon may have an advantage in being one of slept-on contestants coming into Winners At War.
Survivor: Winners At War premieres on CBS Wednesday, February 12 at 8:00 p.m. ET. Be sure to stick with CinemaBlend for more on the world of Survivor, and for the latest news happening in television and movies.
Your Daily Blend of Entertainment News
Mick likes good television, but also reality television. He grew up on Star Wars, DC, Marvel, and pro wrestling and loves to discuss and dissect most of it. He's been writing online for over a decade and never dreamed he'd be in the position he is today.