Is Cisco Leaving The Flash Post-Crisis? Here's What The Showrunner Says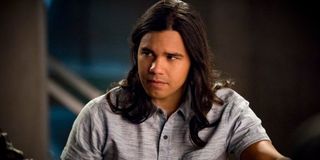 Spoilers ahead for The Flash Season 6 episode, "Marathon."
The Flash Season 6 finally returned for its first post-"Crisis on Infinite Earths" episode, diving head-first into the challenges of living in a newly rebooted world. While Iris set off to fight a mysterious organization, Cisco announced he's leaving Central City to undertake his own project. His departure at the end of the midseason premiere understandably reignited the conversation about Carlos Valdes' potential exit from the series, but is Cisco leaving The Flash?
In Season 5, rumors swirled that Carlos Valdes was leaving the popular superhero series, sparked in large part by his absence in a few episodes. It wasn't an unfounded fear, either. The actor is an original cast member and has appeared in every episode of The Flash since Season 1, at least up until last season. Naturally, when Cisco bid farewell in Season 6's midseason opener, the same question crossed fans' minds. Is Cisco really gone for good? Here's what showrunner Eric Wallace told TVLine:
Whew! That's a huge relief. Personally, I can't imagine the show without Cisco. He's been one of the series' strengths since the beginning, so it's good to know that Carlos Valdes is sticking around. With Eric Wallace confirming that Cisco is staying, the brainiac's exit during Season 6's Episode 10 didn't really give off any permanent goodbye vibes in hindsight. If that would have been the case, he might've bid his girlfriend Kamilla and the rest of his friends adieu as well.
Throughout the episode, Cisco was openly stressed about the state of Earth Prime. Extrapolators no longer work, other Earths have been folded into one, and the tech genius doesn't even remember how he came to own a Superman shirt! It turns out that rebooting the multiverse has left Team Flash with a lot more unanswered questions and mysteries than ever before.
Even metahumans are different on Earth Prime, and Dr. Light's reappearance — as an assassin for the criminal organization Black Hole — proves as much. Cisco left Central City to compile and research everything that's different after Crisis, and while it's unclear in which episode he'll return, at least his absence is only temporary and fans can rest easy knowing that Carlos Valdes will be back "very quickly."
The Flash Season 6 airs new episodes every Tuesday at 8 p.m. ET on The CW. Now that Arrow is over, it's the most senior show in the Arrow-verse, which also includes Supergirl, Black Lightning, Batwoman, and Legends of Tomorrow. For more on what to watch, be sure to check out our midseason schedule for updated premiere dates and times.
Your Daily Blend of Entertainment News
Thank you for signing up to CinemaBlend. You will receive a verification email shortly.
There was a problem. Please refresh the page and try again.