Bachelorette Spoilers: Clare Crawley's Potential Bachelors For Season 16 Have Been Revealed, And I Am Not Impressed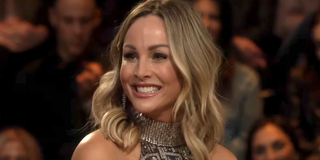 Warning: Spoilers ahead for Clare Crawley's 2020 season of The Bachelorette, a.k.a. Season 16!
You guys? Dating is hard. I have literally never heard anyone, especially in this modern, app-obsessed day and age, proclaim, "Dating is so much fun! I just love everything about it!" While much of Bachelor Nation has dragged some people on The Bachelor or The Bachelorette for only wanting fame and not actual relationships, I do believe that quite a few of those involved are looking to find their forever love, or are at least open to it. Well, Clare Crawley's potential bachelors for her 2020 season of The Bachelorette have just been revealed, and I am not impressed by the choices she's been given.
Let's back up just a bit so you'll understand why myself and other fans find Clare's coterie (as it currently stands) lacking. When Clare was announced as Bachelorette, a lot of people had some very shitty things to say about the fact that, at 38-years-old, Clare is now the oldest lead of The Bachelorette. She's also a four-time veteran of the franchise, having last been seen on the 2018 season of Bachelor Winter Games. Some folks couldn't handle that Clare's not 23, which has become the most common age for women in the franchise.
But, some of us who spent the bulk of Peter Weber's disastrously dramatic season of The Bachelor calling for future seasons to introduce some leads / contestants who might (might) possibly (hopefully?) have some additional maturity due to the simple fact of them being older were very happy to hear about Clare leading Season 16 of The Bachelorette. Because so many of the people we see in the franchise have been so young for so many seasons in a row, though, I wondered if producers were going to be able to find appropriate men for our Clare.
Spoilers from Reality Steve told us that, after the last minute decision to cast Clare as the 2020 lead of The Bachelorette, they cut three men in their mid-20s who had already been cast, with one 23-year-old likely to get cut as well. Steve also noted that they had gone back to the drawing board to find men who would be more mature and within Clare's age range, even interviewing some for the very first time recently.
Photos of all the men chosen (with a couple of extras who will not make the final cut) have finally been released on The Bachelorette Facebook page and, lordy, lordy...this ain't no party! Get a look at them first, and we can talk details:
I'm sure you scrolled through the bunch, and, while most of these pictures are terrible, the more pressing (sigh depressing) issue is the age of all but three of the men who've potentially been cast. Only three of Clare's Coterie are in their mid-30s to early 40s? How is this possible?
Now, I'm not saying that everyone on Clare's season needed to be 38 or 39 (Clare will actually have her birthday about a week into filming). I am, in fact, totally cool with there being a 10 year range for these dudes, with some being up to 10 years younger than Clare, some being up to that much older than her, and most being right around her actual age. So...honestly Bachelorette producers. What deep fuckery is this?
Only eight men are in their 30s at all, with most of them being in their early-30s. Do they at least seem like they'd be a fun hang for Clare while she searches for true love? You tell me; take a look at this winner by the name of Josh E., who's 31 and hails from Minneapolis, MN:
OK, Josh, calm down. You haven't even met Clare yet...Or, did you think you'd be meeting Hannah Ann Sluss or Madison Prewett? LOL! I'm sorry, sir. So very, very sorry. We also have several, wait, let me count...23 men who are in their 20s. STILL! And, of those men, 11 are under 27-years-old. I know what you're thinking: We were told they were cutting some men in that very age range. Why would there still be so many of them? Excellent question! I'd really like to know why Clare is going to be subjected to James C. from Chicago, who is only 23-years-old:
Sure, James is cute with his deep dimples and lush eyebrows, and his photo is better than most of the guys', but do we really think this champion is ready to get engaged in a few weeks and be married with kids in potentially just a couple of years? I'm sure most of the men who've been chosen are at least semi-decent human beings (no misogynistic tweets or photos with any of these dudes in blackface have come out...yet), but we all know that if this were a 38-year-old lead for The Bachelor and most of his women were this young, we'd be annoyed.
So, I think one of two things happened here. First, either the producers simply weren't organized enough to change course so quickly and pick a lead with some good years on her, meaning that their talent pool was still woefully young and they couldn't entice enough older men to audition at such a late date. Or, and this is the conspiracy theorist in me (Thanks, Mom!), they really don't want this idea of an older lead to succeed.
This franchise casts people all year round; meaning that even when none of the shows are filming or airing (granted, not much of the year makes up this time period), they're looking at photos, social media accounts, having conversations with potential bachelors and bachelorettes to date the leads and narrowing down the entries. As noted earlier, the past several seasons have seen younger leads and contestants, so their pool of potentials is pretty youthful right now.
But, Peter Weber's season, as well as Hannah Brown's 2019 season of The Bachelorette, led many fans to call for older leads / suitors. Maybe we've been seeing such young people on the franchise because that's who's been trying out. It's much easier to leave your life behind to go on the show for a couple of months when you have fewer responsibilities. The younger you are the more likely you are to not have children, pets, a home you own, or a job that requires you not take off for eight weeks and be totally unreachable.
In short, I think that the producers are trying to throw us a bone by casting Clare as the lead. They don't want to fill the shows with people in their 30s or (Egad!) 40s, because those people will be too hard to cast, and I'm sure they're also worried that they will be too mature to create the kind of insane drama the shows have become known for.
So, they make Clare Crawley The Bachelorette in 2020, but do it with a bunch of men who will likely not be up to her standards. The test fails, and they can go back to having pageant also-rans and social media influencers populate most of the shows, while they give us The Bachelor: Senior Lovin' (or whatever the senior citizen version will be called) to satisfy those who argue that everyone in the franchise is too damn young.
Look, I'm not, by any means, saying that if the producers had populated Clare's season with nothing but men between the ages of 38 and 42 that they'd all be sane, gentlemanly, intelligent guys that she could actually fall in love with. Being the same age doesn't guarantee that they'd have enough of the same values, dreams, or interests to make a long-term romance work. But, I do feel like The Bachelorette has stacked the deck against Clare in Season 16, and I'm not OK with that.
I'm really rooting for Clare on this season of The Bachelorette, so we'll have to see how things shake out for her when it begins airing on May 18. In the meantime, stay tuned to CinemaBlend for Bachelor Nation spoilers and news!
Your Daily Blend of Entertainment News
Yennefer's apprentice, Gilmore Girl; will Vulcan nerve pinch pretty much anyone if prompted with cheese...Yes, even Jamie Fraser.