Bachelor Spoilers: Why Peter Weber's Live Finale Showdown Was 'Scary' To ABC Execs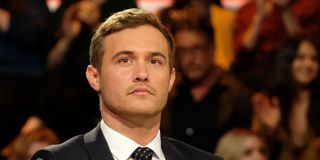 Warning: Big Spoilers Ahead for the live finale of Peter Weber's 2020 Season of The Bachelor, a.k.a Season 24!
Oh, my word, Bachelor Nation! We finally got to see just how Peter Weber would end his time as The Bachelor during the second part of the live two-night finale on Tuesday, and Chris Harrison might have been right when he said that this would it be the most dramatic finale ever. Sure, there were spoilers aplenty which told us that Peter would propose to Hannah Ann Sluss, break off the engagement after a while and then go after Madison Prewett, but we didn't know about once crucial factor: Peter's mom, Barbara Weber. And, because of that, the finale ended up being truly "scary" for those at ABC.
If you've seen the finale and the whole After the Final Rose special, you'll know that Barb, who had met and originally liked Madison way back when Peter brought her to meet his folks on their first one-on-one date, had turned on Madison by the time Peter whittled his choices down to her and Hannah Ann. Peter told his parents about Madison's no-sex-with-your-other-girlfriends-please ultimatum, and that really turned the tide, along with Madison's more religious / less party-centric lifestyle, which doesn't match with what Peter's parents have seen from him.
While it's true that no one in Peter's immediate family thought that he and Madison were a good match, Barb is the one who really went for the gold. The clip we had been seeing all season of her crying and begging Peter to "bring her back home to us!" was actually her plea for him to propose to Hannah Ann. And, when Madison broke up with Peter after her combative meeting with his folks, that's what he did. But, after about a month, they broke up because of his wavering feelings and he sorta worked things out with Madison, enough for them to sit on stage at the live show and talk about rekindling their romance for real.
Here is where it got scary, because Barb was not having it. Generally parents on The Bachelor or The Bachelorette, even if they aren't happy with their kid's choice of partner, defer to their decision and say they want the best for them and will be there no matter what. Barbara Weber did not do that. She told everyone, on live TV, that Peter was going "to have to fail to succeed" in his relationship with Madison. When asked if those at ABC knew how ugly the confrontation was going to get, network executive Rob Mills told Variety:
Obviously, Rob Mills and those who produce The Bachelor, not to mention Peter Weber, all knew that Barb was not down with Madison and her son having any kind of relationship going forward. But, it was pretty clear that no one was expecting Barb to double down on her dislike of the potential romance while on live television. I haven't exactly watched every season of The Bachelor and The Bachelroette, but I don't ever recall a parent actually getting booed during one of the live finales before. And, y'all, Barbara Weber got booed big time.
Rob Mills was also asked if he thought that Barb went too far when detailing the reasons why she wasn't happy about Madison and Peter's relationship (and unwillingness to support them as they gave it a shot), and here's what he said:
Alright, Rob Mills. I see you sidestepping the question and not telling us whether or not you think Barb went too far last night. So, I'm gonna just take that as a yes. Honestly, after watching what happened between Barb, Peter and Madison last night, it's hard to argue that Mrs. Weber did the right thing.
I was with Barb after she detailed how they'd just gotten off the plane to Australia, and Madison made the family wait for three hours before coming to see them, and then didn't apologize. Barb was also pissed that Madison straight up told her she wasn't fully in love with Peter yet, which I get would be troubling for any parent. But, going on and on about not supporting your son and his (possible) girlfriend, and how the romance is doomed...on live TV? Barb? You're doing too much and need to learn how to keep some of your family drama at home. Well, at least she didn't cry...
As Rob Mills said, lots of people have had to deal with their family not really liking (or, outright hating) the person they chose to spend their life with, but that knowledge is usually kept within a smallish circle of family and friends. This on-air confrontation lasted so long that we barely got to meet new Bachelorette Clare Crawley, and didn't get to see any of her suitors for Season 16, which is standard for the After the Final Rose finale. So, it begs the question: How can Peter and Madison continue this relationship with so much pressure from his family, and literally everyone knowing about it? Here's what Mills had to say:
This is all true. If Peter and Madison don't last as a couple, it will be very easy for Bachelor Nation to figure out why, no matter how far down the line it may happen. Many fans already had a lot of questions and issues with Peter potentially choosing Madison before we saw how little support they'd get from his family, but when you add that on top it seems sorta impossible for them.
We were all on this journey with Peter, and it was truly awkward 99% of the way through. If this leads to Peter finally moving out of his parent's house, though, at least some good will come out of it. And, that's actually me being serious, because it seems like Peter could really use some space from his family; Barbara Weber in particular. Plus, there's no way he and Madison can date with him living at home, considering how the Weber clan feels about her.
The Bachelor may be over for 2020, but there's more to come in Bachelor Nation. The Bachelor: Listen To Your Heart, the new music-centered show in the franchise will premiere on April 13, and Clare Crawley's time as The Bachelorette for Season 16 will begin to air on May 18, so stay tuned to CinemaBlend for the latest in Bachelor Nation spoilers and news!
Bachelor Nation, Gilmore Girl; will Vulcan nerve pinch pretty much anyone if prompted with cheese...Yes, even Jamie Fraser.
Your Daily Blend of Entertainment News
Thank you for signing up to CinemaBlend. You will receive a verification email shortly.
There was a problem. Please refresh the page and try again.