Why Survivor: Winners At War Needs To Add More Episodes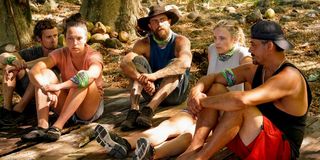 Survivor: Winners At War is around its midpoint, and honestly, that's a real problem. Yes, I know the standard season as of late has been 14 episodes, but with Season 40 being the biggest season the show has done yet, shouldn't fans be getting a little more?
After seeing Boston Rob's "blindside," I certainly think so. One of Survivor's greatest moments of the season happened in about 15 seconds in an edit that didn't accurately portray how this elimination came to be. It's the first of many times something similar has happened this season, and I think there's an easy solution to the problem.
Survivor could and should add more episodes in Season 40, and there's a real opportunity for CBS to make it happen.
Why Survivor: Winners At War Needs More Episodes
As mentioned, the wonderful Boston Rob's blindside was not the only time Survivor: Winners At War has zoomed through a major moment. Tyson Apostol's elimination was basically edited the same way, and he was on the island without too much talk about his thoughts since being sent to the Edge of Extinction.
Speaking of Edge of Extinction, we still don't know exactly how these players are going to bankroll their way back onto the island. The last episode hardly showed what was up over on that side, which makes me question what good it is to the audience that all these iconic winners are hanging out over there fighting for a chance to return to the game?
Then there's the immunities and fire tokens. There are far too many moving pieces going on with the various advantages floating around, and I guarantee most Survivor viewers can't keep tabs on who has what without a spreadsheet. Can anyone even remember what power Jeremy Collins was sent by Natalie Anderson at the start of the season?
Also, maybe I'm alone in this, but I feel that the only real strategy I've seen unfold and discussed in Survivor: Winners At War is what Boston Rob has been doing. Don't get me wrong, Rob is certainly one of the most entertaining players in the game and his strategy makes for great reality television, but this is a season of winners. So many others are being edited like they don't have a strategy, which does a real disservice to their talents as players.
There are a ton of things happening on Survivor: Winners At War that just can't be summarized in the span of an hour. Hell, that's true in a regular season of Survivor, but this isn't just any regular season of Survivor. $2 million is on the line here. That prize, in my eyes, is diminished if viewers are being robbed of the full story of how the winner got it.
Filming may have wrapped on Survivor: Winners At War, but like all reality shows, there's likely a ton of unused footage hanging out somewhere. Big Brother does three shows a week in a season and still has meaningful stuff happen on the live feeds that has to be cut for time. I find it hard to believe that all of what was left out of the final cut for Season 40 was meaningless or not noteworthy, especially in this massive multi-faceted all-star season.
Why Now Is The Perfect Time For CBS To Give Survivor: Winners At War More Episodes
At the time of writing, America is responding to the coronavirus pandemic in a major way. A number of professional sports have suspended or delayed their seasons, and the NCAA has cancelled its men's and women's collegiate tournaments. The latter is a big deal for CBS, which typically airs a good deal of March Madness mayhem during this month.
Granted, there probably weren't going to be a ton of situations where March Madness collided with Survivor in terms of programming, but with so many sporting events on hold, there's now a community of avid sports fans who may be looking to scratch that itch for competitive programming elsewhere.
Survivor could be a haven for this audience, and pull in a good deal of people who may have followed the show when they were younger, but have since fallen out. The show has been on for 20 years; there have to be a few people out there that might be curious what the show is up to.
Additionally, professional sports has not been the only thing affected by coronavirus. Survivor Season 41 was originally slated to start production this month, but will now be pushed off to May 19th. Of course, that's assuming this pandemic is under better control by then, and there's a chance that the season could be pushed back even further than that. Nothing is certain at all as far as this situation is concerned. Only time will tell.
Will CBS Give Survivor: Winners At War More Episodes?
It's impossible for me to know whether or not CBS or Survivor would ever consider adding more episodes to extend Season 40. What I do know is that Survivor is a legacy program on CBS, and has had a loyal following for decades. I also know that filming a reality show means running a lot of cameras on a lot of people constantly. There has to be a ton of unused footage that can be spliced together that can squeeze another episode or two between major eliminations if CBS wanted it.
On the flip side, lots of networks have had their schedules affected by coronavirus as is. For Survivor to start adding additional episodes to its lineup, I would think it would have to put its current release schedule for episodes on delay. That may not be something CBS would want to do, even if it meant more episodes of Survivor to watch down the stretch.
This is an unprecedented situation, though, and it's hard to say what moves networks may or may not make as the coronavirus threat is ongoing. If shows continue to hold off on production, extending already existing programming is a viable option for fresh content without the risk of exposing people to sickness. All the pieces seem to be there for this to happen, but fans can only wait and see if CBS or Survivor is interested in making it happen.
In the meantime, Survivor: Winners At War is on CBS Wednesdays at 8:00 p.m. ET. Continue to stick with CinemaBlend for updates on this major season, and for the latest happening in the world of television and movies.
Mick likes good television, but also reality television. He grew up on Star Wars, DC, Marvel, and pro wrestling and loves to discuss and dissect most of it. He's been writing online for over a decade and never dreamed he'd be in the position he is today.
Your Daily Blend of Entertainment News
Thank you for signing up to CinemaBlend. You will receive a verification email shortly.
There was a problem. Please refresh the page and try again.