Survivor's Boston Rob Vs. Sandra: Who Is Winners At War's Biggest Threat?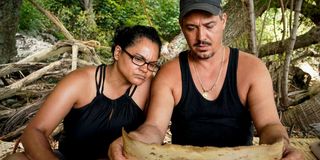 Survivor: Winners At War is officially underway and already the show has lost two major competitors. Surprisingly enough, the first two that went to the Edge of Extinction were not Boston Rob Mariano and Sandra Diaz-Twine, who both entered the game with massive targets on their backs. Both have already shown they're as great amongst winners as they have been against others in the past, but who is the bigger threat?
Let's review the facts. Specifically, what makes each player so great in Survivor, and who may have the advantage if the two go head to head in Survivor: Winners At War. Will one of these two end up winning the $2 million? I'd like to think the other players won't let either get that close, but if they do, it's because of these reasons that make Boston Rob and Sandra such an in-game threat.
What Boston Rob Brings To Survivor
"Boston" Rob Mariano played Survivor four times before he won, and is now back on Survivor: Winners At War for his fifth time competing. He met his wife in the game, and in the words of Jeff Probst, played one of the most perfect games ever in Survivor: Redemption Island. He's certainly a force to be reckoned with, and a name respected amongst Survivor players past and present.
Why Boston Rob Is A Threat In Survivor
Rob's a force to be reckoned with in physical challenges, though that's more the icing on the cake of his overall game. Rob's core strength is gathering information, which he is able to do rather easily through his friendly nature, and way of guilting others into giving up their intel. It's a strategy that works well when forming strong alliances, which is another thing Rob has done consistently playing Survivor.
Boston Rob's Strength In Survivor: Winners At War
Boston Rob was a name floated around for elimination in the premiere episode of Survivor: Winners At War, but Rob was quickly able to sway the vote towards Natalie Anderson. In this case, he was able to get to the right people early on, and subtly convince anyone thinking of taking him out that it was too early to make such a big move. He also formed an alliance with Parvati Shallow, which is an insane alliance that could do some real damage in this game going forward.
What/Who Boston Rob Needs To Look Out For
Boston Rob was always going to have a target on his back in Survivor: Winners At War. His game just needs to be staying one step ahead of anyone trying to vote him out, and making sure he sees as few Tribal Councils as possible until the late game. It would also help him out greatly if Sandra ends up getting sent home before merger, as she has announced early and often that she sees him as a huge target in this game. And to think, Rob could've avoided all this had he simply told Sandra during Island of the Idols he'd be taking part in Season 40.
What Sandra Diaz-Twine Brings To Survivor
Sandra has been referred to by many as the "Queen of Survivor," though apparently not on the island because she doesn't want a target on her back. Sandra Diaz-Twine is the only person in Survivor history to win the game twice, and could become the only person to win the game three times by the end of Season 40.
Why Sandra Is A Threat In Survivor
Sandra is a manipulative player, and is great at dominating Tribal conversation and putting a target on anyone but herself. It's a talent that simply can't be praised enough, and has been a key part of both her wins in Survivor: Pearl Islands and Survivor: Heroes vs. Villains. While she may not be much of a threat in physical competitions, Sandra has proven herself resourceful in ways that not only benefit her tribe, but her own strategy as well.
Sandra's Biggest Strength In Survivor: Winners At War
The second part of the Survivor: Winners At War premiere showed exactly why Sandra isn't someone to mess with. Sandra started out seeming like a near-universal vote for an early exit amongst the Dakal Tribe, but quickly went to work doing what she does best. Sandra ultimately flipped the vote to the far less imposing Amber Mariano, someone she ultimately wanted to eliminate from the start after her husband Boston Rob lied to her about entering the competition. It may have been an unnecessary and somewhat spiteful move for Sandra, but ultimately an excellent show of how she can control a tribe.
What/Who Sandra Needs To Watch Out For
Sandra's struggle with physical competitions is certainly one of her bigger weaknesses in Survivor: Winners At War, especially in a game full of competitors that know her manipulative tactics. She may be safe from Dakal members in the early stages of the game if they keep winning, but if losses start to rack up, more physical competitors may be prioritized to stop the bleeding. Sandra also may have made an enemy she didn't have before in Boston Rob, especially if he learns she targeted Amber first. If the two make it to merger, I could see it being an issue.
Who Will Be Eliminated First, And Who Is The Bigger Threat?
Survivor is such a hard series to predict eliminations for, especially when so much conversation between competitors can be left out of the episode's final cut. Both Sandra and Rob managed to pull heat off them for one week in the competition, but eventually, the other winners will know it's best for their game if those two are gone.This is why pre-merger wins will be so vital for each competitor going forward, so that each can limit their amount of time at Tribal Council, and ultimately help them continue to survive.
In the improbable, but possible scenario in which Rob and Sandra meet in the tribal merger it's really dependent on who has the stronger alliance at the time. Really the only person who wins at that point is everyone else, as Sandra has drew a line in the sand that seems to say there's no way in hell these two will work together. I would give a slight edge to Rob as a bigger threat because he has a better shot at winning himself immunity from a challenge, but the addition of coins could shift the game in a major way for less physical competitors like Sandra.
Survivor: Winners At War airs on CBS Wednesdays at 8:00 p.m. ET. Stick with CinemaBlend for all the latest information on television in 2020, and for a look at what's happening in movies as well.
Your Daily Blend of Entertainment News
Mick likes good television, but also reality television. He grew up on Star Wars, DC, Marvel, and pro wrestling and loves to discuss and dissect most of it. He's been writing online for over a decade and never dreamed he'd be in the position he is today.