HBO's The Last Of Us Casting: 10 Actors Who Would Be Perfect To Play Joel And Ellie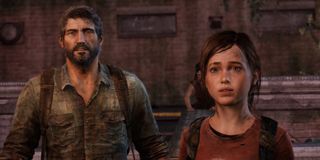 One of the most widely acclaimed narrative-driven video games of the modern era, the post-apocalyptic action-adventure The Last of Us is set to become a TV series. It's happening at HBO, where the game's terror and dark drama will almost definitely stay intact during the adaptation process. It's still early in the pre-production process, but fans everywhere are already thinking about who creator Craig Mazin (Chernobyl) and his fellow producers will cast as The Last of Us' two lead characters, the rugged Texan Joel and the whip-smart teenager Ellie.
To spin such a beloved video game for TV, HBO will likely look to cast performers with a wide range of skills, since The Last of Us is packed with pulse-pounding action, emotional beats and nuanced dialogue that video games so rarely utilize. In the post-outbreak story, where humans turn into aggro-monsters dubbed the "Infected," Joel is a low-nonsense smuggler tasked with bringing 19-year-old Ellie to a rebel group's base. The situation gets particularly tense once others discover Ellie may hold answers to curing the infection.
And that's just Act I, with tons of deadly mayhem and stressful situations going down during Joel and Ellie's long journey. So in no particular order and with no particular combinations in mind, here are our ideal picks for who HBO and Craig Mazin should cast as Joel and Ellie.
Hugh Jackman
Hugh Jackman's many years as the X-Men movies' Wolverine would have already made him a great choice to play The Last of Us' Joel, claws down, but it was specifically his gritty turn in 2017's Logan that truly sealed the deal. Jackman can play a badass grizzled survivor with the best of them, and he's always maintained excellent chemistry with younger costars in any project he's in, so there would be little worry about him clashing with whoever gets cast as Ellie. As well, HBO is great at wooing big screen actors to cable, and since Jackman hasn't taken on any regular TV roles since the earliest years of his career, The Last of Us would be an ideal project to win him back.
Kaitlyn Dever
Kaitlyn Dever's years on Tim Allen's Last Man Standing arguably don't give her huge advantages with The Last of Us, beyond displaying her talent for creating levity, which the game features on occasion. Netflix's miniseries Unbelievable, on the other hand, specifically showed off Dever's widespread talents as a hardened survivor, though in a completely different sense. Upon first playing The Last Of Us, it's possible that Justified fans were reminded of Dever's hard-nosed Loretta McCready. And beyond winning performances in films like Short Term 12, Booksmart and more, Dever also has game cred for voicing the young Cassie Drake in Uncharted 4: A Thief's End. (Fun fact: though these picks aren't meant to be paired off, Dever did play Hugh Jackman's daughter in 2018's political drama The Front Runner.)
Nikolaj Coster-Waldau
Sure, Danish actor Nikolaj Coster-Waldau has been in a bunch of action-oriented projects such as Black Hawk Down, Oblivion, Gods of Egypt and more. But let's not fool ourselves about why he's automatically on many fans' shortlists for The Last of Us' Joel. Obviously, it's because he spent 8 seasons kicking ass and taking names on HBO's fantasy epic Game of Thrones as the loyal-to-a-fault Jaime Lannister. While the characters don't share a lot of direct comparisons, it all comes down to Coster-Waldau's talents for portraying a badass warrior who goes into every battle with the same level of bravery and confidence, regardless of what's coming. His penchant from growing scruffy beards is but a bonus.
Hailee Steinfeld
Though horror-tinged projects rarely get any awards attention, The Last of Us landing at HBO gives it as good a chance as any to earn such accolades, and adding Academy Award-winning actors like Hailee Steinfeld is another good way to do it. Steinfeld took home the Best Supporting Actress trophy for True Grit at just 13 years old, and it's not a huge stretch to say that Ellie shares some characteristics with that film's Mattie Ross. Since then, Steinfeld got more familiar with action roles in Term Life and Bumblebee, and embraced her inner Spider-Woman for Spider-Man: Into the Spider-verse. Having recently shifted to TV for the titular role in Apple TV+'s Dickinson, Steinfeld is now more comfortable on the small screen, though Emily Dickinson isn't exactly an Ellie replica.
Justin Theroux
Often opting for broadly comedic roles in projects like the Zoolander films, Parks and Recreation and The Spy Who Dumped Me, – as well as rando cameos in The Last Jedi and Joker – actor Justin Theroux always stands out when crossing into more dramatic territories. In particular, Theroux earned miles-high praise for his work on HBO's supernatural apocalypse-adjacent drama The Leftovers. (The HBO-friendly actor also appeared in Sex and the City, Six Feet Under, and John Adams.) As The Leftovers' Kevin Garvey, Theroux played a cop leading his family and others through extremely dire situations, and still infused the role with warmth, humor and wide-eyed fearfulness. The format-breaking episodes "International Assassin" and "The Most Powerful Man in the World (and His Identical Twin Brother)" encapsulate why he'd be particularly superb as The Last Of Us' Joel.
Emily Scanlen
Another HBO veteran with talent to spare, Emily Scanlen jumped from a recurring role in the Australian soap Home and Away to a stunning breakout turn in the miniseries Sharp Objects, easily rising to the acting heights of co-stars Amy Adams and Golden Globe winner Patricia Clarkson. As the mentally abused Amma Crellin, Scanlen masterfully shifted from sycophantic mommy's girl to rebellious deviant and back again, and never lost the character's innate sense of innocence. Following Sharp Objects, Scanlen aced the role of Beth March in Greta Gerwig's Little Women, and in 2019's Babyteeth, she played an ailing teen who lived like there was no tomorrow, which is a sentiment that The Last of Us' Ellie knows all too well.
Frank Grillo
When Frank Grillo digs down into action and thriller projects, he legitimately looks like a video game character come to life. From his minor role in The Shield to his starring role in The Purge franchise to playing Brock "Crossbones" Rumlow in the Marvel Cinematic Universe, Grillo is always in beast-mode, and The Last of Us' Infected would be wise to steer clear. It's Audience Network's MMA-centered drama Kingdom that perhaps shows Grillo's potential as the father-figure Joel, as he plays a retired MMA fighter trying to keep his family from splintering. The actor boasts the necessary physical acting skills, as well as the ability to find emotional headspaces that many other action stars cannot.
Sophia Lillis
When it comes to starring in dark Hollywood projects that never lose sight of their characters' humanity, Sophia Lillis already has a high batting average that makes her a solid fit for The Last of Us. In the pair of films based on Stephen King's IT, Lillis stood tall as the first film's lone female star in a Bev-y of male co-stars, which then led to her the lead role in Netflix's recent coming-of-age quasi-superhero adaptation I Am Not Okay with This. As a teen harboring a secret that would completely compromise her existence, Lillis' Sydney Novak travels a somewhat parallel path to The Last of Us' Ellie, and coincidentally enough, both characters also fall on the gay or bisexual side of the sexuality spectrum. (Extra points to Lillis for also recurring in HBO's Sharp Objects.)
Nathan Fillion
For a long time, Firefly and Castle star Nathan Fillion campaigned to play Nathan Drake in a live-action adaptation of the Uncharted video game, only for Tom Holland to get cast after years of false starts. It didn't stop Fillion from proving his worth in an Uncharted fan film in 2018, though. So even though Uncharted and The Last of Us don't share a lot in common narratively, there's no doubt that Fillion could and would be a perfect fit to play Joel. (Fillion mighthave just a little too much inherent charm, for the role, but still.) As the star of ABC's drama The Rookie, Fillion might not have the schedule room to fit an HBO production, but maybe he could use all that charm to make something work.
Cassady McClincy
While Cassady McClincy might not be as much of an overall household name as others on this list, her placement is perhaps the most germane. She's currently starring in The Walking Dead as the character Lydia, who has had to fight to prove her worth to the show's protagonists after cutting ties with her violently villainous mother. Despite both characters having experienced post-apocalyptic life, Lydia is actually quite different from Ellie, both in personality and in motivations. That could work to McClincy's advantage, though, since it would give her the opportunity to play someone more confident and self-assured. That said, Lydia's kinship with Jeffrey Dean Morgan's Negan does offers slight reflections of Ellie and Joel's relationship, so there's familiarity there. (Is it too late for me to add Morgan as a choice to play Joel?)
The long and arduous wait for The Last of Us 2 will presumably be over on May 29, 2020, barring any unforeseen delays, and it'll be some time after that when the hard work will kick off in bringing Joel and Ellie and other characters to life through HBO's adaptation. Stay tuned to CinemaBlend for any future news regarding casting and release dates, and let us know in the comments who you'd want to see as Joel and Ellie.
Assistant Managing Editor
Nick is a Cajun Country native, and is often asked why he doesn't sound like that's the case. His love for his wife and daughters is almost equaled by his love of gasp-for-breath laughter and gasp-for-breath horror. A lifetime spent in the vicinity of a television screen led to his current dream job, as well as his knowledge of too many TV themes and ad jingles.
Your Daily Blend of Entertainment News
Thank you for signing up to CinemaBlend. You will receive a verification email shortly.
There was a problem. Please refresh the page and try again.