Last Man Standing Fans Shouldn't Expect To See Kaitlyn Dever Much Anymore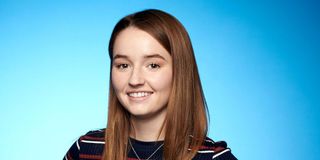 Once a series gets further along in its run, it's not unusual for members of the original cast to leave or to be around a lot less, at the very least. Such is the case with Last Man Standing, which didn't air new episodes this fall. As the series heads into Season 8, its second season on Fox, fans shouldn't expect to see Kaitlyn Dever's Eve Baxter around much anymore.
Kaitlyn Dever has become a big star since rising to fame as Last Man Standing's Eve Baxter, which started back in 2011. Having appeared in popular recent films like Booksmart, as well as Netflix's latest series, Unbelievable, her schedule is now a lot less open for frequent appearances on the Fox show. Last Man Standing executive producer Kevin Abbott certainly recognizes her gifts and had this to say about the actresses' unavailability:
Kaitlyn Dever's so busy that she's only actually filmed one of the 14 episodes that were produced so far, which is the Season 8 premiere that airs in January. For the first time since Season 1, Dever didn't return to Last Man Standing as a series regular in Season 7, and it appears she's might be down to "special guest star" before anything gets any better on that front. That said, it's understood why the actress is no longer available.
Still, that doesn't mean the writers haven't been trying to finagle schedules for her to appear in a few more episodes nearer the end of Season 8's 22-episode run. Speaking with TVLine, Kevin Abbott explained how they're trying to coordinate with her schedule, though it sounds like Kaitlyn Dever might not be back for a while.
It seems like a touch-and-go situation, thanks to her stellar work elsewhere in Hollywood, but there's still plenty of time for Kaitlyn Dever to make her grand return to the series before Season 8 wraps filming. Last Man Standing reached its 150th episode milestone earlier this year, and it will will surely welcome Dever back with open arms whenever her own arms are empty.
Last Man Standing is set to return to Fox on Thursday, January 2 at 8 p.m. ET. For three weeks, the series will air back-to-back episodes, after which it'll revert back to airing one episode a week through May, with no breaks. For more on what to watch this winter, be sure to check out our 2020 midseason schedule.
Your Daily Blend of Entertainment News