Why Star Wars: The Clone Wars' Dave Filoni Doesn't Worry About Pleasing The Fans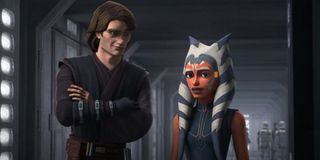 If Star Wars fans have taught us anything, it's that they can be a tough crowd to please. While most of them are passionate about the storied franchise and what happens to their favorite characters, some can be a bit demanding when it comes to what they personally want to see. This is something that Lucasfilm has been dealing with for years. Although, Star Wars: The Clone Wars producer Dave Filoni doesn't fret when it comes to meeting fan expectations. He only thinks of it in terms of what he's doing as a storyteller, something he learned from working with George Lucas:
Dave Filoni explained to Deadline that he can only craft a story within a context that he's comfortable with and, if he spends too much time only focusing on what the fans will think, you probably won't get a product that you're satisfied with:
There's a lot of merit to Dave Filoni's logic. Storytellers can only tell the tales that feels right to them. If it's not something they would want to see, there's a good chance other people may not want to either. Taking every single fan suggestion into account could also cause creatives to second guess themselves. Plus, in any situation, you're probably not going to please everyone anyway, so there's really no point and aiming for such a difficult feat.
And Filoni's career does speak for itself, as he's added more than a few things to Star Wars lore through The Clone Wars and Rebels. His work his garnered praise from fans and Lucas himself. One of his greatest achievements has to be the character of Ahsoka Tano, who he transformed from a naïve padawan into an accomplished Jedi Knight.
More recently, Dave Filoni also proved his strong storytelling abilities through the Clone Wars series finale, which effectively wrapped up the animated series.
It's no wonder Dave Filoni has been so successful for so long and, if he maintains this way of thinking, the Star Wars franchise should thrive for years to come.
Star Wars: The Clone Wars is now streaming on Disney+.
Covering superheroes, sci-fi, comedy, and almost anything else in film and TV. I eat more pizza than the Teenage Mutant Ninja Turtles.
Your Daily Blend of Entertainment News
Thank you for signing up to CinemaBlend. You will receive a verification email shortly.
There was a problem. Please refresh the page and try again.