The Clone Wars' Ahsoka Tano Was Nearly Retconned Into A Star Wars Film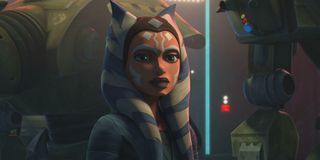 Despite having only been featured in animated projects thus far, Ahsoka Tano has become a key part of Star Wars lore. Many fans weren't sure what to make of the feisty apprentice when she first appeared in 2008's Star Wars: The Clone Wars movie, but they have since more than warmed up to her. Interestingly enough, Clone Wars nearly became the second theatrical film to feature Ahsoka. According to Clone Wars creator and executive producer Dave Filoni, her debut was almost retconned so that she debuted in an earlier movie:
With The Clone Wars coming to an end, Dave Filoni has been reflective, especially when it comes to Ahsoka Tano, who he co-created with George Lucas. So this is probably why he's chosen to reveal this secret to Vanity Fair.
The fact that Ahsoka wasn't the first name that Filoni, George Lucas and the rest of their team came up with isn't too surprising, as details like that tend to change with time. However, retconning Ahsoka's origin so that she was actually present in Star Wars: Episode II – Attack of the Clones would have been interesting.
The scene specific scene that Dave Filoni is likely referring to occurs when Obi-Wan Kenobi goes to visit Master Yoda at the Jedi Temple during his search for the planet Kamino. When Kenobi meets with Yoda, he's training with younglings.
If I'm being honest, having Ahsoka appear in Attack of the Clones in that capacity wouldn't have been a gamechanger for that movie, and it wouldn't have altered what we already know about her. Still, it would have been a nice piece of connective tissue between the live-action and animated projects.
Although Ahsoka has been present in the Star Wars mythos for over a decade, she's yet to appear in the live-action medium. Though it looks like this is about to change, as Rosario Dawson has reportedly been tapped to play the character in the second season of Disney+'s The Mandalorian.
It's cool to hear Dave Filoni and company reminisce and fill in the blanks of Ahsoka Tano's path to becoming Anakin Skywalker's padawan and later fellow Jedi Knight. But between her appearance in The Mandalorian and her role in the massive "Siege of Mandalore" arc, there are plenty of reasons for us to be focusing on her future.
Both Star Wars: The Clone Wars and The Mandalorian are now streaming on Disney+.
Your Daily Blend of Entertainment News
Covering superheroes, sci-fi, comedy, and almost anything else in film and TV. I eat more pizza than the Teenage Mutant Ninja Turtles.