What Will And Grace's Debra Messing Will Miss Most About The Show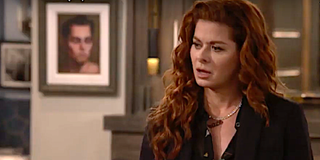 The Will & Grace revival ended in April, with the series saying goodbye for a second time after it was originally cancelled in 2006. The NBC comedy was the rare show that returned strong after being off the air for so long. While it's only been a month since Will & Grace closed out with a second series finale, it's been even longer since Debra Messing wrapped filming on the show last December. In discussing the series, Messing recently revealed what she missed the most about filming the show.
Will & Grace returned with a lot of fanfare and became one of the more successful revivals of recent years. Naturally, the series evolved with the changing times, but it always managed to retain its sense of humor. Debra Messing recently discussed the one thing she's been missing now that Will & Grace was over. Here's what she said:
Will & Grace really did "make people laugh," as can be attested to by the show's longevity and record-breaking revival ratings. Viewers clearly couldn't get enough of the NBC comedy and there was indeed plenty of laughter abound. Debra Messing recalled these good times during an appearance on Live with Kelly and Ryan. You can check out part of the interview below:
I also don't think Debra Messing is the only one missing the humor right now, especially during these turbulent times. Like Messing said, laughter is "healing," so I'm glad the actress didn't take the daily dose of laughter for granted while filming the show.
Will & Grace returned for its revival run in 2017, eleven years after its original series finale. The series brought back the original cast, though the creators ultimately retconned the comedy's 2006 finale, which saw Will and Grace estranged for 20 years after a rift effectively broke up their friendship.
However, when Will & Grace ended for a second time, the characters got a much happier ending that was more in line with who they were as people. That meant their friendship staying very much intact. It was a satisfying ending for all involved.
Debra Messing might miss the show and all the laughter, but she was pleased that the Will & Grace revival ended in a "meaningful" way. And that was a good thing because the show's creators aren't interested in bringing Will & Grace for a third time.
All eleven seasons of Will & Grace are currently available to stream on Hulu. For more on what to watch in the coming months, be sure to check out our 2020 summer TV premiere guide.
Your Daily Blend of Entertainment News