How Disney+'s The Mandalorian Sparked Rule Changes For The Golden Globes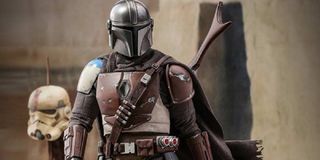 The Mandalorian was a unique freshman show for a multitude of reasons. Namely, it was the first live-action Star Wars series, not to mention that it introduced the adorable Baby Yoda. The Mandalorian was also atypical in that its titular character's face was covered by a mask for the majority of Season 1. Historically, the Golden Globes' governing body wouldn't have thought to nominate Pedro Pascal's masked character, but the Disney+ series has reportedly sparked a rule change.
The Hollywood Foreign Press Association (HFPA) made some rule changes recently, one of which was allegedly inspired by The Mandalorian. Per Variety, the HFPA revealed that Pedro Pascal's Mandalorian was actually eligible to compete in the acting category for television. The rule changed to state that "voice-only performances" were not eligible to compete in any of the Golden Globes' acting categories.
Pedro Pascal, whose face was covered by a helmet up until the Season 1 finale of The Mandalorian, barely scraped by under the rule. In short, if the actor hadn't revealed his face at the end of Season 1, the "voice-only performance" rule would have applied to him. It seems that Pascal's eligibility was unusual under the rules already in place. According to industry insiders, the Disney+ series helped to effectively push the HFPA to further explain their rules.
All that said, it's important to note that Pedro Pascal was not actually nominated for a Golden Globe award. The HFPA was simply acknowledging that, under the rules, he could have been nominated for an acting award because he did, however briefly, show his face onscreen. I'm glad that The Mandalorian's unique situation with Pedro Pascal allowed for that to happen. As it turns out, Pascal had to get seven stitches while filming the one episode where he has to remove his helmet. Perhaps being eligible for an award made it all worth it, but maybe not.
Elsewhere, the HFPA also announced that the word "anthology" was being added to accompany the Golden Globes' limited series/TV movie categories. This is an addition to the rule change last year that made anthology series like Netflix's Black Mirror, The Twilight Zone, and FX's American Horror Story eligible to compete in the television categories.
As of this writing, a date for the 2021 Golden Globes ceremony has not been announced. Viewers can check out Season 1 of The Mandalorian, which is currently streaming on Disney+. Season 2 will premiere at some point in October. For more on what to watch in the coming months, be sure to swing by our summer TV premiere guide. Stay tuned to CinemaBlend for the latest in TV and movie news.
Your Daily Blend of Entertainment News