Why The Chi's Season 3 Premiere Could Be The First Step In Redemption For Ronnie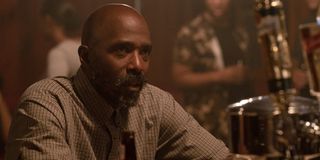 (Image credit: Showtime)
Spoilers for The Chi's Season 3 Premiere – "Foe 'Nem" – lie ahead.
The Chi Season 3 has arrived and, with it, came a massive shift in the status quo. The jam-packed episode brought new beginnings for most of the main cast and spelled the end for some key characters (R.I.P. Brandon and Reg). But despite everything that happened during this installment, most are probably still focused on the mystery that kicked off during those final few minutes. There's a lot to consider regarding the development but, at first glance, it could actually provide some unexpected redemption for the troubled Ronnie.
In the final scene of The Chi's season premiere, Keisha -- Kevin's college-bound older sister – seemingly vanishes while waiting at a bus stop in the middle of the night. The only thing left at the site that would indicate her presence is her cracked cell phone. However, before she disappears, she's passed by Ronnie, and the two stare at each other uneasily before he walks off. This moment may have been brief, but The Chi may have actually set in motion a potentially interesting subplot for the season.
To say that Ronnie's been through a lot would be an understatement and, despite his occasional efforts to rebuild his life, he always finds himself descending back into alcohol. This very thing happens when he's turned away from Brandon's funeral and later drowns his troubles at the bar. Despite everything though, Ronnie still appears set on rectifying his murder of Coogi Johnson.
This brings us to Keisha's disappearance. It's unexpected that Ronnie would be the last person to see her before she vanishes, so much so that the writers must've had a purpose for it. By the next episode, word will undoubtedly have spread about Keisha and, given the heavily connective nature of the show, Ronnie is sure to hear about it as well. Knowing that he saw the young woman that night, he may seek to offer information to the police, or he may do some investigating of his own.
Now, if this were to happen, it would make sense for two reasons. First off, Ronnie's Season 1 arc involved him seeking out answers about his deceased surrogate son, Jason. So having him aid in the search for Keisha would absolutely be true to what we know about his character.
Secondly, having him search for (and possibly locate Kiesha) would bring his story full circle in a very satisfying way. Ronnie's search for Jason's killer led him to take the life of a young person, which still haunts him. Giving him the chance to locate and potentially save the life of another young person would be somewhat poetic. It could also potentially ease his tension with Kevin, who notably shunned him in the premiere.
Don't get me wrong. If Ronnie were to help find Kiesha, it may not change public opinion about him, but saving a child's life could give him some personal closure and allow him to finally stop wallowing in his grief.
This may be a longshot, but it's certainly not out of the realm of possibility. After all, one of The Chi's taglines for the season is "redemption found." Let's see if Ronnie finds his by finding Keisha.
New episodes of The Chi air Sundays at 9 p.m. ET on Showtime, and past seasons are also available to stream on Hulu.
Covering superheroes, sci-fi, comedy, and almost anything else in film and TV. I eat more pizza than the Teenage Mutant Ninja Turtles.
Your Daily Blend of Entertainment News
Thank you for signing up to CinemaBlend. You will receive a verification email shortly.
There was a problem. Please refresh the page and try again.