Redemption? The Mandalorian's Moff Gideon May Not Stay The Villain In Season 2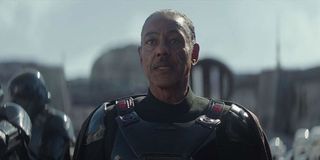 The Star Wars universe is no stranger to the redemption of its biggest bad guys, with Darth Vader being a chief example. The Mandalorian's Moff Gideon, a war criminal who managed to evade execution during the Galactic War, may have been the primary villain in Season 1, but all hope may not be lost just yet for the character. With The Mandalorian Season 2 premiering later this year, Giancarlo Esposito reveals that there's a chance Moff Gideon may not remain a villain in the show's future.
The Season 1 finale of The Mandalorian saw Moff Gideon go down, but not out. With the Darksaber in hand, the character knows there is vengeance to be had. However, Giancarlo Esposito recently revealed that there might still be the potential for Moff to get his head on straight in Season 2. Is redemption on the horizon? Here's what the actor told the crowd at the recently held Fan Expo Vancouver 2020:
Moff Gideon was the man to beat during The Mandalorian Season 1, at least when he was finally shown. He spent the majority of his efforts trying to kidnap The Child, a.k,a. the precious Baby Yoda (who will soon get his very own stuffed animal). Whatever ends up happening with the Force-wielding lil' dude, Giancarlo Esposito sounds confident that there's a light at the end of the tunnel for Moff despite all the criminal acts he's committed in his past, which align with his thoughts on Moff being an "interesting guy."
Whether or not Moff Gideon actually will get redeemed in The Mandalorian Season 2 remains to be seen, but there's definitely a lot of room for the villain to grow within the narrative. . There's also plenty left to explore in terms of Moff's backstory, which may shed some light into his motivations for capturing Baby Yoda, whose new toy talks and even uses the Force. So hopefully Moff can make some better choices next season that are more helpful to Mando & Co., rather than just making things harder for them.
The Mandalorian Season 2 is currently scheduled to premiere on Disney+ at some point in October. In the meantime, you can rewatch all of Moff Gideon's most menacing moments by streaming Season 1 on Disney+. For more on what to watch, be sure to check out our 2020 midseason schedule for updated premiere dates and times for all cable and streaming shows.
Your Daily Blend of Entertainment News
Thank you for signing up to CinemaBlend. You will receive a verification email shortly.
There was a problem. Please refresh the page and try again.