Usain Bolt Introduces His Baby Daughter And Her Name Is Fit For The Olympics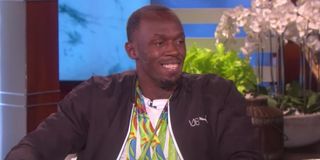 One can imagine that superstar athletes are proud of their accomplishments in their respective sports. There are likely times when even legends like Michael Jordan and Tom Brady have to take a step back and marvel at what they've managed to achieve. However, aside from the fame and accolades, like any of us, they also relish their great moments outside of their careers. And this is definitely the case for Olympic gold medalist Usain Bolt, who recently welcomed a baby daughter. He's proud of his little girl and, as you would expect, her name is a strong fit for the Olympics.
Usain Bolt recently took to Instagram to wish girlfriend Kasi Bennett a Happy Birthday and to formally introduce the couple's daughter – Olympia Lightning Bolt. You can check out Bolt's photos of his precious baby down below:
Most would agree that Usain Bolt holds a very unique (and appropriate name), but he's taken it a step further with his daughter, Olympia. Many would imagine that the celebrated sprinter was partially inspired by his Olympic career when choosing a name, though he and Bennett may have just loved the name on its own. Regardless, it's a fitting name for the daughter of the man who's considered to be the greatest sprinter of all time.
Although the 2020 Summer Olympic Games (which were set to take place in Tokyo) were postponed due to the global health crisis, fans unfortunately wouldn't have seen Bolt back on the track even if they had gone forward. The sprinter has since retired from competition and even stated that he would not come out of retirement to compete in the 2020 Olympics.
Bolt may no longer be competing, but it's safe to say that he's probably happy to have time to spend with his new family. Going for the gold is thrilling, but spending time with loved ones is surely satisfying for most people.
The birth of his child certainly marks the start of a new chapter in Usain Bolt's life and, so far, he seems to be settling into his role a dad quite nicely. Still, many remain fascinated about his storied career and will likely want to learn more about his life and what motivated him to success. With this, it wouldn't be surprising if he eventually gets his own docuseries, not unlike ESPN's The Last Dance.
One thing that can absolutely be said is that Usain Bolt definitely seems happy, and it's nice to see him and his family doing well during these times. At this point, we don't know what the future will bring for little Olympia Lightning Bolt, but it wouldn't be surprising if she someday decides to follow in her father's Olympic footsteps.
Keep it here at Cinemablend for more news from the world of TV and film.
Covering superheroes, sci-fi, comedy, and almost anything else in film and TV. I eat more pizza than the Teenage Mutant Ninja Turtles.
Your Daily Blend of Entertainment News
Thank you for signing up to CinemaBlend. You will receive a verification email shortly.
There was a problem. Please refresh the page and try again.