Ellen DeGeneres Commits To 'Change' At Show Following Claims Of Toxic Work Environment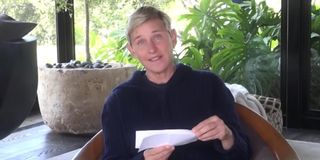 The Ellen DeGeneres Show has been at the center of internal turmoil as of late. Earlier this month, several of the talk show's former employees alleged that the series' executive producers — Ed Glavin, Mary Connelly, and Andy Lassner — and senior managers were responsible for creating a toxic workplace culture. The allegations include instances of racial discrimination, intimidation, fear of retaliation and more. Ellen DeGeneres is speaking out, committing to behind-the-scenes "change" following claims of a toxic work environment.
Following the accusations made against The Ellen DeGeneres Show being made public, the folks at WarnerMedia began conducting an internal investigation, with a third-party firm hired to interview current and former employees of the talk show. Per The Hollywood Reporter, Ellen DeGeneres penned a letter addressing her staff, saying that she was "disappointed to learn" that her talk show was no longer a place of happiness. In her words:
Ellen DeGeneres goes on to say that she's been learning that some people are speaking on her behalf and "misrepresenting who I am and that has to stop." DeGeneres doesn't mention any names, but the employee allegations specifically made note of The Ellen DeGeneres Show's executive producers and, according to sources, EP Ed Glavin is reportedly being fired from the show soon, along with some others.
The talk show host adds that she has a "deep compassion" for anyone being looked at differently, judged, and treated unfairly because of her own history with such treatment — Ellen DeGeneres came out as gay in 1997 and received several death threats. She's also "glad the issues at our show" were brought to her attention and she promises to do her part to create a working environment where everyone "can speak up and feels safe doing so."
The Ellen DeGeneres Show isn't the first show to come under investigation recently for workplace issues. Former MacGyver and Magnum P.I. showrunner Peter Lenkov was fired for a toxic and hostile work environment; former America's Got Talent judge Gabrielle Union filed discrimination complaints against NBCUniversal and others; and Shalita Grant has spoken up about the toxic environment she faced while filming NCIS: New Orleans, which made her leave the show.
Stay tuned to CinemaBlend for updates regarding The Ellen DeGeneres Show and more. In the meantime, be sure to check out our 2020 fall TV premiere guide.
Your Daily Blend of Entertainment News