Former Ellen DeGeneres Employees Accuse The Show Of Having A Toxic Work Culture, But Not Ellen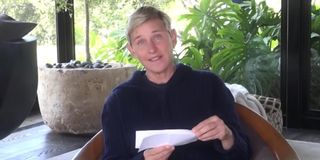 The curtains are being pulled back on toxic workplace environments throughout Hollywood. Former America's Got Talent judge Gabrielle Union filed discrimination complaints against NBCUniversal and others. Meanwhile, Magnum P.I. and MacGyver showrunner Peter Lenkov was fired following multiple claims of a toxic work environment. Now, former employees of The Ellen DeGeneres Show are accusing the daytime series of having a toxic work culture, but they're not blaming Ellen DeGeneres herself.
One current employee and ten former employees of The Ellen DeGeneres Show are speaking up about what it was like working for the talk show, claiming that the executive producers and senior managers were primarily responsible for creating a toxic culture. Per BuzzFeed, the allegations range from being fired for taking medical and bereavement leave to reports of racial discrimination and microaggressions. One former employee claims that there was a general "fear of speaking out" due to potential retaliation.
These employees also allege that The Ellen DeGeneres Show's "be kind" motto has never been extended to the staff, with one employee stating that the mantra is "all for show." Most of the daytime talk show's former employees who spoke out allege that they were told not to engage with the host when she was around. In one employee's words:
Despite leaving Ellen DeGeneres out of the accusations, one employee suggested that the host should "take more responsibility" when it comes to cultivating a better work culture because it's her name on the show. This particular employee doesn't think that DeGeneres is involved enough in the work environment and she should be.
In general, the employees maintain that the alleged problems plaguing the work environment are due to executive producers Ed Glavin, Mary Connelly, and Andy Lassner. The executive producers stated that they don't take these accusations lightly, issuing a joint statement regarding the allegations. Here's what they said:
This isn't the first workplace complaint made by employees of The Ellen DeGeneres Show. Back in April, several employees were laid off during the early days of the global pandemic, with many crew members alleging that producers didn't properly communicate with them about compensation for more than a month, among other allegations. Once again, the staff accused DeGeneres and the producers of not upholding the "be kind" motto of the show.
Stay tuned to CinemaBlend for updates on this story. Be sure to check out our updated 2020 fall TV schedule to find out the premiere dates and times of new and returning shows.
Your Daily Blend of Entertainment News