Avatar: The Last Airbender Honest Trailer Rips On M. Night Shyamalan And Makes Striking Star Wars Comparisons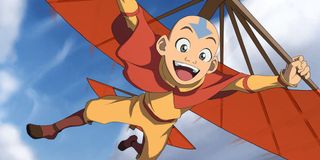 (Image credit: (Nickelodeon))
Since Nickelodeon's Avatar: The Last Airbender dropped on Netflix in spring, the animated series has seen a resurgence in popularity. The streaming service is gearing up to reboot the show for live-action and will release the Avatar sequel The Legend of Korra this Friday. So comes the perfect time for Honest Trailers to swoop in with their best roasts while fans are in the thick of their third rewatches. Check it out below:
Screen Junkies came in hot with that episode! The television series is seriously nostalgic for a ton of fans, but this trailer tells it like it is. Calling it "the best appropriation of Asian culture" since Ghost Dog: The Way of the Samurai. As stated, everyone's been talking about the show again since it arrived on Netflix, but one complaint is how short it is. Why didn't it get a fourth season again? Apparently, due to M. Night Shyamalan's disastrous live-action adaptation, plans were set aside.
The Shyamalan shade doesn't stop there. Later in the video, the narrator looks to the bright side, sarcastically stating how The Last Airbender is "at least" the final live-action adaptation… before reminders of Netflix's coming reboot. There's certainly a ton of lore a new television show could build upon, but fans have been burned before. And, to the tune of 5 percent on Rotten Tomatoes.
But back to the fun stuff! This Honest Trailer also jokes about how every animal must have done some major outside breeding in order for species such as wolf bats, badger moles and baby sabertooth moose lion cubs to exist. Let's not think about that! They're adorable and it's a cartoon! Screen Junkies also calls Aang an "elongated baby with a down vote on his head" who is a major procrastinator. Ok, the Fire Nation feels seriously ATTACKED right now.
Katara is called a Reiki enthusiast and Toph's incessant barefootedness is compared to the likes of women in Tarantino movies. And, I never realized how many times Prince Zuko says "The Avatar." There's, thankfully, major praise for Appa, who is obviously the best. General Iro is also a huge fan favorite of the series, and the Screen Junkies video calls him "The Big Lebowski of the Fire Nation."
The trailer also boasts that Avatar: The Last Airbender is probably the closest thing we have to a successor to Star Wars, while showing a side-by-side of a shot from The Empire Strikes Back that closely resembles one in the animated series. Similarly, the first series is "beloved but nitpicked" and the sequel (Korra) bothers a ton of fans. It also nicknames Zuko "Pyro Ren," which checks out… except Zuko beat Kylo ending wise.
Avatar: The Last Airbender is on Netflix now and The Legend of Korra hits the service this Friday, August 14. Stay tuned here on CinemaBlend for more TV news.
YA genre tribute. Horror May Queen. Word webslinger. All her writing should be read in Sarah Connor's Terminator 2 voice over.
Your Daily Blend of Entertainment News
Thank you for signing up to CinemaBlend. You will receive a verification email shortly.
There was a problem. Please refresh the page and try again.