Better Call Saul's Gene Scores Major Props From Cinnabon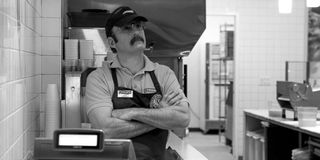 Better Call Saul fans have come to care for just about all of the show's main characters on some level. This includes Saul Goodman's post-Breaking Bad alter ego, Gene Takavic. No longer the well-meaning Jimmy McGill or the fast-talking Saul Goodman, Gene is the mild-mannered manager of a Cinnabon in an Omaha shopping mall. While his new life may not seem so exciting compared to his previous exploits as a lawyer, Gene is good at his job, and it would appear that Cinnabon has taken notice.
The Better Call Saul Twitter account recently made note of the time Gene passed out on the job. Nevertheless, the official Cinnabon account chimed in with a bit of praise:
It's nice to see Gene get the recognition he deserves. Sure, he's not the perfect employee, but he definitely puts in the work where it counts. Those who've watched Gene over the past five season premieres would likely agree with these sentiments.
In all seriousness though, Bob Odenkirk does a masterful job of playing Gene, as he manages to convey the sense of gloom and paranoia that the character exudes during his occasional appearances. This is only heightened by the fact that the writers always manage to put him in tense situations. So far, he's been trapped in a dumpster room and admitted to a hospital, during which he struggled not to expose his identity.
When we last saw Gene in the Season 5 premiere, his true identity had been discovered by a taxi driver, who confronted him about it while at work. The scared Gene initially called Ed Galbraith (a.k.a. the Disappearer) for help before he resolved to handle the situation on his own.
Gene's ultimate fate is one of the many questions fans are anxious to know as the sixth and final season of Better Call Saul approaches. If you're like me, you would probably like to see the character get a somewhat happy ending. However, it's honestly hard to say what the writers of the show have planned for him.
But if there's one thing the writers of Better Call Saul have proven it's that they have immense affection for the characters and know what makes the most sense for them. So whatever happens to Gene will likely end up being a natural progression of his story.
Until we see what ultimately happens to Gene Takavic, we'll be left to speculate as much as we can. In a perfect world, he'd reunite with lover and Omaha native Kim Wexler, which would make for a sweet end. But in the meantime, we can marvel at the fact that Gene got some nice props from his place of employment.
Better Call Saul Season 6 is expected to arrive in 2021 and, to prepare for the new episodes, you can stream the series on Netflix.
Covering superheroes, sci-fi, comedy, and almost anything else in film and TV. I eat more pizza than the Teenage Mutant Ninja Turtles.
Your Daily Blend of Entertainment News
Thank you for signing up to CinemaBlend. You will receive a verification email shortly.
There was a problem. Please refresh the page and try again.