HBO's Lovecraft Country: 8 Biggest WTF Moments From Episode 7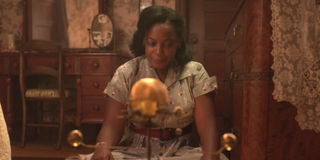 Some truly baffling spoilers are below for anyone who hasn't yet watched Episode 7 of Lovecraft Country.
After six episodes that embraced all manner of horror – from Ruby and Christina's body gore to deadly mythical monsters to Ji-Ah's inner demons – Lovecraft Country truly tapped into the cosmic side of H.P. Lovecraft's oeuvre with "I Am." Obviously, it also tapped into lots of other head-scratching and eye-popping and soul-empowering elements throughout its runtime, and we are here to celebrate not only those moments, but also Aunjanue Ellis and her increasingly developing Hippolyta.
The episode started off with a confounding moment that we aren't including below – a piece of paper surviving the Braithwhite mansion fire – but things quickly got far from awe-inspiring from that point on. (For those who aren't caught up with our past features, be sure to check out the most WTF moments from Episode 1, Episode 2, Episode 3, Episode 4, Episode 5 and Episode 6.)
William Was A Real Person
I suppose this shouldn't have been too much of a shock, considering actress Jamie Neumann first appeared as the racist character Dell before returning as Hillary Davenport, making it clear that something bad happened to Dell before Ruby's white-woman adventures. Still, it was wild to hear Abbey Lee's Christina justifying the body-morphing process. It definitely works better for the story that Jordan Patrick Smith's William was real before he was killed by Captain Lancaster, since that gives Christina revenge motives on top of her other goals. I do wonder if there are any other characters in Lovecraft Country who are this familiar with such metamorphosis tactics.
Tic And Leti Catching Montrose And Sammy
In one of the biggest scenes from Episode 7 that wasn't steeped in genre, Jonathan Majors' Tic and Jurnee Smollett's Leti arrived just in time to witness the end of Michael K. Williams' Montrose having his breakfast spat with his lover Sammy (Jon Hudson Odom), and it very nearly sent Tic careening past the edge all over again. (It's good, then, that the show didn't have him walk in on Montrose and Sammy in bed.) Majors delivered some Emmy-worthy acting in the aftermath, and truly sounded like a hurt child when contemplating the true source of Montrose's abuse. After just semi-chastising Sammy for communicating with a neighbor, one would think Montrose would have been a bit more careful. Not that he expects visits from Tic all the time.
The Machine And The Murder
After brilliantly devising the location coordinates within the orrery (which a curious Leti later found within the Freeman house), Hippolyta arrived at a dome-shaped building in the town of Mayfield, and shit got downright wacky from there. Hippolyta discovered a big, complicated machine that looked straight out of a Vincent Price movie, and as she was in the midst of figuring some complicated shit out, she was accosted by a pair of policemen, and then Tic came seemingly out of nowhere to help her. By the time it was over, Hippolyta had shot and killed one of the cops, and then she, Tic and the other cop all entered the mysterious wormhole that popped up out of nowhere, as wormholes do.
Hippolyta's Journey Part 1: Inside The Glowing Hub
Plainly stated, everything about Hippolyta's story from this point is Peak Lovecraft Country what the absolute fuck-ery. She was first blasted down onto a planet (possibly Earth?) at a non-civilized point in the timeline, and she was confronted by a giant glowing structure and some of its robot-esque minions. She then woke up nude, noticing strange implants on her wrists, and soon met Karen LeBlanc's futuristic mentor-goddess, whose name in the credits is "Seraphina AKA Beyond C'est," with the latter being an enjoyably odd Beyoncé pun. After figuring out lots of high-minded math that sounded kind of like Tool lyrics, Hippolyta was allowed to choose her idealized reality for the second stage of her journey.
Hippolyta's Journey Part 2: Dancing With Josephine Baker
Lovecraft Country thankfully gave Hippolyta time to shine with genuine happiness during her completely unexpected jaunt to Paris, where she took part in some risqué stage shows fronted by historical icon Josephine Baker, as portrayed by Carra Patterson. From the awkwardness of Hippolyta's disastrous first performance to the intensity of her admission to Josephine that she wanted to kill white people – after having actually killed that cop – this phase of the journey allowed Hippolyta to rediscover her self-assurance and her independence, before putting her back into a leadership position.
Hippolyta's Journey Part 3: Tribe Wars
Hippolyta zipped from lavish stage shows to a completely different form of practiced grace as she trained to be a warrior within what I assume is the Mino, an all-female militant group that thrived during the 19th century within part of the Fon population in western Africa. (They were unofficially called the Dahomey Amazons by white Europeans, which is likely a comic book nod to Hippolyta being the Amazonian mother of Wonder Woman.) She ascended from new recruit to leader and led her group to a virtuous victory against a group of white male soldiers, and also delivered one of the most badass beheadings possible. In the end, that victory was just a blip on the radar, with a far more massive wall of soldiers coming to slaughter all the women, but this experience gave Hippolyta what she needed to move forward.
Hippolyta's Journey Part 4: Meeting Aliens With George
Next, Hippolyta's trek got more inherently personal, as she went back to a point before Courtney B. Vance's George was murdered, and they had an emotional conversation about everything she'd been through after his death, complete with her self-reflections. Crazily enough, George accompanied Hippolyta on the next jaunt, which took them to a gorgeously luminescent and non-Earthly planet, where the pair got a gift from some aliens and studied plant life. Beyond featuring some of Lovecraft Country's most impressive costumes and set designs, this final leg of the journey directly reflected the space fantasy from Diana's comic book, which makes that final shot of the comic beneath the dead cop all the more mysterious.
That Lovecraft Country Book
I love when stories like this embrace being meta and self-referential, and that happened in a huge way when Tic held up a physical copy of Lovecraft Country after he was thrown back out of the wormhole. (What happened to him in there, though, and what happened to that other cop?) Only this book wasn't written by the real source material's author Matt Ruff, but rather by "George Freeman." Its cover depicted an image that looked a lot like Hippolyta standing before the glowing structure earlier in the episode, and featured the tagline "Journey into worlds within worlds within worlds." So does this book's existence mean that Hippolyta actually did go back in time, and that she and George actually did go into outer space together? It doesn't seem likely, but it would be super cool if Diana's Orithyia Blue comic was directly inspired by her parents' own space adventures.
Holy crap, holy crap, holy crap. Misha Green and her excellent creative team did it again, and left viewers with way too much to think about while waiting for the next episode. Remember to keep watching as Season 1 continues airing on HBO every Sunday night at 9:00 p.m. ET. Also be sure to keep current with our Fall TV 2020 premiere schedule to see what new and returning shows are on the way.
Your Daily Blend of Entertainment News
Assistant Managing Editor
Nick is a Cajun Country native, and is often asked why he doesn't sound like that's the case. His love for his wife and daughters is almost equaled by his love of gasp-for-breath laughter and gasp-for-breath horror. A lifetime spent in the vicinity of a television screen led to his current dream job, as well as his knowledge of too many TV themes and ad jingles.