How Jessica Simpson Shed 100 Pounds And Broke The Internet With That Yoga Body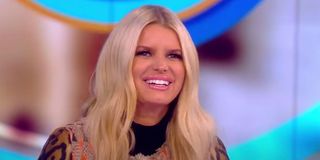 Jessica Simpson broke the Internet a few days ago with a post showing her doing yoga adjacent to a pool, with the sun barely glimmering in the background. Yes, it was a picturesque setting; however, fans on the Internet were pretty well trained on the "I Think I'm In Love With You" singer's new look and yoga pose. Jessica Simpson has not been shy about her weight loss journey and the struggles she's faced in recent years, but she recently shed 100 pounds and looks great.
Here's how she did it, but first, let's all take one more moment to admire the view. I'm talking about the mountains, obviously. Get your head out of the gutter.
How Jessica Simpson Lost 100 Lbs
First and foremost, Jessica Simpson has been super open in the past about not wanting to give up snacks and comfort foods that she loves, which is something she's been open about throughout her current weight loss journey, as well. During an interview with E! News she talked about making healthier eating choices but not making things so strict she can't snack some of the time. She noted:
What she has been doing, alongside consuming way more cauliflower in her diet, is working out with a plan she and her personal trainer created together. Jessica Simpson worked with famed trainer Harley Pasternak, a name those who keep an eye on celebrity fitness may be familiar with. Pasternak has also worked with major stars including Robert Pattinson, Robert Downey Jr., Lady Gaga, Kim Kardashian, Kanye West, Alicia Keys and many, many more.
Harley Pasternak actually came out and spoke about exactly how he got Jessica Simpson back on her fitness journey. He told E! he and Jessica are not fans of any sorts of "extreme diets" or "radical forms of exercise" so they started small and worked their way into more stuff. He noted:
Jessica Simpson noted at the time she had started at 240 pounds and eventually worked her way back to 140 pounds through diet and exercise. Eventually, she went from trying for 6,000 steps a day to working toward 14,000 steps a day as well. That led to full bodyweight training exercises and to targeting specific muscle groups. Now, it seems as if she just does a little extra yoga by the pool for fun to wind down.
Jessica Simpson's Weight Loss In The Public Eye
Jessica Simpson was very fit in the early 2000s during her heyday as a pop singer and reality TV star. Following her marriage to Eric Johnson, she had three kids and started a fashion empire—all things that take time and effort to manage. She also struggled with alcohol for a time. In 2012, after the birth of her first child, she memorably joined Weight Watchers to lose weight after having her first child. She subsequently gained weight for her second and third children, as well. The new yoga post comes one year after Jessica Simpson had her third kid, a daughter she and Eric Johnson named Birdie Mae.
It hasn't always been easy seeing these fluctuations in the public eye. Jessica Simpson previously told Oprah about how hard it was to see people online and even news outlets commenting on weight she'd gained due to pregnancies.
Jessica Simpson later wrote a book Open Truth, she told The View to get to know herself and "own her truth" in regards to herself, who she was and who the public has perceived she is as a person over the course of her long Hollywood career.
It was back in September of 2019 that Jessica Simpson felt she was ready to come out and talk about her weight loss journey and achieving her goals without being too hard on herself. Since then she's done what a lot of individuals struggle to do: maintain a healthy weight without going overboard or gaining back. It's tough to find that balance, but I guess that's what yoga in particular is all about.
Your Daily Blend of Entertainment News
Reality TV fan with a pinch of Disney fairy dust thrown in. Theme park junkie. If you've created a rom-com I've probably watched it.