Fans Have Some Major Thoughts About The Good Doctor's Big Premiere Twist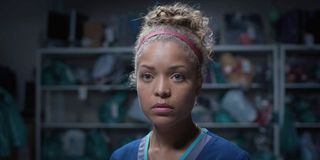 Warning! Spoilers ahead for the Season 4 premiere of The Good Doctor, called "Frontline Part 1."
Dr. Neil Melendez met an untimely death at the end of The Good Doctor Season 3, succumbing to internal injuries that ultimately proved fatal. It was a really tragic way to go and it was hard for fans to say goodbye to one of the medical drama's original characters. While Melendez's heartbreaking death wasn't at the forefront of the characters' minds in the Season 4 premiere, The Good Doctor delivered a huge twist regarding Melendez that sent fans reeling in the aftermath.
The Good Doctor, like so many other medical dramas, kicked off its new season by tackling the COVID-19 pandemic. St. Bonaventure Hospital was in crisis mode during the Season 4 premiere as the healthcare staff tried their best to deal with sick patients needing immediate care. As Antonia Thomas' Dr. Claire Brown worked alongside her colleagues to combat the coronavirus in its early days (the premiere began in late February), she was also still dealing with the emotional fallout of Melendez's death.
However, when Claire headed to the storage room to look for a cross necklace that belonged to a coronavirus patient, she was taken by surprise when she heard Melendez say, "Things will be okay." Shocked, Claire turned around to see the deceased doctor as music played over the scene. Viewers were also surprised by Melendez's appearance and had several thoughts, taking to Twitter to describe their feelings.
It was admittedly heartbreaking to see Nicholas Gonzalez's Melendez again. While I understand that the hospital's staff was busy dealing with the pandemic, it was a little disheartening to witness how little attention Melendez's death actually got. Another fan was unconvinced that Melendez was dead at all after watching the scene from the Season 4 premiere.
The theory that Melendez is in a coma is actually pretty popular on Twitter. Unfortunately, it seems The Good Doctor made Melendez nothing more than a figment of Claire's mind.
Yet another fan was seemingly saddened by the scene because what fans wanted was for Melendez to be alive and The Good Doctor's Season 4 premiere pretty much shattered that hope.
Included in many of these tweets is the hashtag "#BringBackMelendez." The fans' commitment to wanting Melendez back (and actually alive) is intense and honestly not unwarranted considering the way his story ended in The Good Doctor Season 3. One fan was none too pleased at his return and had only one thing to say to sum up their thoughts.
The preview for "Frontline Part 2" includes more of Melendez, but he's still pretty much a ghost/hallucination for Claire. While it sucks that Nicholas Gonzalez is only guest starring in Season 4, it is nice to see him again. How Claire will continue handling her mourning amidst the pandemic is anyone's guess, but I'd wager the intensity is about to ramp up in a big way.
A new episode of The Good Doctor Season 4 airs November 9 at 10:00 p.m. ET on ABC. For more on what to watch in the meantime, be sure to check out our 2020 fall TV premiere guide.
Your Daily Blend of Entertainment News
Thank you for signing up to CinemaBlend. You will receive a verification email shortly.
There was a problem. Please refresh the page and try again.