Why Are Chicago Med, Chicago Fire, And Chicago P.D. Already Going On Hiatus When They Just Premiered?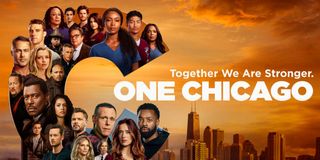 The three shows of One Chicago finally returned from their longest hiatus ever on November 11, giving viewers their first fixes of Chicago Med, Chicago Fire, and Chicago P.D. since the previous seasons ended prematurely back in April. Surprisingly, however, all three shows are already missing from the Wednesday lineup after only two new episodes have aired, and no new episodes are scheduled until the new year. So, why are these three hit shows already heading into another hiatus? Well, fans shouldn't panic, as this might not be too big of a deal.
The fall finales of Chicago Med Season 6, Chicago Fire Season 9, and Chicago P.D. Season 8 aired back on November 18, which corresponds to when One Chicago usually heads into fall breaks before picking up again with winter premieres. In fact, the One Chicago fall finales from last season all aired on November 20, 2019, which is almost exactly a year to the date before the 2020 fall enders. The difference here is that the fall break comes after just two episodes, as opposed to the usual eight or nine.
Of course, fans may have hoped that the late start to the 2020-2021 TV season meant that NBC would forego the usual end-of-year break and keep airing new One Chicago episodes through the end of 2020, but the break is hardly reason to panic. NBC has already aired trailers for the winter premieres that will air in January, so the shows didn't have to wrap their 2020 runs because they ran out of footage. Fans still have to wait, but new episodes are coming. In fact, NBC already announced the winter premiere date: Wednesday, January 6.
The One Chicago shows have run into some obstacles since returning to production for the new seasons, however. Chicago Med had to temporarily suspend production on Season 6 shortly after beginning in September due to a positive COVID-19 test from a member of the production team, although the Med halt didn't affect production on Chicago Fire or Chicago P.D. More recently, Chicago Fire had to halt production shortly before the One Chicago fall premieres due to a positive COVID test from a crew member. Med and P.D. were apparently not affected by the temporary Fire suspension.
It's worth noting that the fall finales of Chicago Med, Fire, and P.D. didn't end on the same kinds of life-or-death cliffhangers that One Chicago fans are likely used to from these shows. Chicago P.D. seemingly finished telling the story that was cut short in the spring (although without one familiar face on board), while Fire's biggest cliffhanger is arguably what happens next for Casey and Brett after their Dawsey setback. Med seems to be setting the stage more than leaving fans hanging, with Choi's promotion in the ED and Will branching out at the hospital.
One Chicago returns to NBC on. Wednesday, January 6 starting with Med at 8 p.m. ET, Fire at 9 p.m. ET, and P.D. at 10 p.m. ET. In case you missed the first two episodes of Chicago Med, Chicago Fire, and/or Chicago P.D. in the 2020-2021 TV season or are just in the mood for a rewatch, you can find the episodes streaming on both Hulu and Peacock. For some more viewing options in the new year, be sure to check out our 2021 winter and spring premiere schedule.
Resident of One Chicago, Bachelor Nation, and Cleveland. Has opinions about crossovers, Star Wars, and superheroes. Will not time travel.
Your Daily Blend of Entertainment News
Thank you for signing up to CinemaBlend. You will receive a verification email shortly.
There was a problem. Please refresh the page and try again.