The One Smallville Death Sam Witwer Wishes Didn't Happen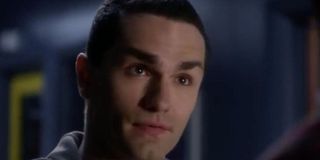 Smallville introduced a number of characters during its 10-season run, some who hailed from the pages of DC Comics and others who were created specifically for the show. One character who was an amalgamation of both was Sam Witwer's Davis Bloome, the human alter ego of infamous DC Comics villain Doomsday. The character received mixed reviews from fans, and some fans could argue that his storyline ended in a pretty controversial manner. Witwer tends to agree, and he even believes that a major death associated with his character should not have taken place.
Sam Witwer's Davis Bloome was a starring character during Smallville's eighth season and was introduced as medic who was initially unaware of his true extraterrestrial origins. Over time, he learned of Doomsday but discovered that he can suppress him by killing. So he did this by murdering criminals. In time, he also fell in love with Chloe Sullivan and, in the finale, she managed to separate Davis and Doomsday using black kryptonite. But immediately after, Davis murdered Chloe's husband, Jimmy Olsen, with a metal pipe when he discovered that Chloe doesn't love him.
At this year's virtual Smallville panel at New York City Comic Con (which has now been deleted from YouTube), Sam Witwer takes issue with Jimmy's death. Not only did Witwer express displeasure with it because he's good friends with Jimmy Olsen actor Aaron Ashmore, but the way in which the death plays out also made him a bit uncomfortable:
Of all the characters on Smallville, Aaron Ashmore's Jimmy Olsen was definitely one of the more upbeat presences on the show, though he did go through his fair share of struggles during Season 8. That still didn't keep his death and subsequent funeral from being any less heartbreaking. I guess if there's any consolation, the dying Olsen was able to save Chloe by killing Davis right after being attacked.
Sam Witwer does make some interesting points, and some would definitely agree with him. While some Smallville characters didn't quite get happy endings, fans can at least take comfort in the fact that Clark Kent and Lois Lane did, as seen in the Arrowverse's "Crisis on Infinite Earths" crossover.
Jimmy Olsen's death will likely continue to be a sticking point for Witwer and Smallville fans into the future. Thankfully, the Olsen name did prove to live on through Jimmy's younger brother, as shown in the series finale.
Smallville is now available to stream on Hulu.
Covering superheroes, sci-fi, comedy, and almost anything else in film and TV. I eat more pizza than the Teenage Mutant Ninja Turtles.
Your Daily Blend of Entertainment News
Thank you for signing up to CinemaBlend. You will receive a verification email shortly.
There was a problem. Please refresh the page and try again.