How Star Wars: The Clone Wars' Sam Witwer Developed His Maul Voice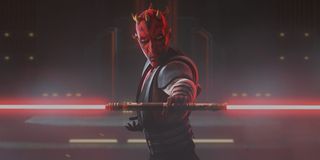 Sam Witwer has made a name for himself portraying famous villains, including Doomsday on Smallville and Agent Liberty on Supergirl. However, voicing the Sith lord Darth Maul in the animated Star Wars: The Clone Wars may be one of his most notable roles to date. In fact, outside of Star Wars: The Phantom Menace, it has been Witwer's voice behind Maul in everything from Star Wars Rebels to Solo: A Star Wars Story. Recently, the actor explained exactly how he went about developing his Maul voice.
Sam Witwer's take on Darth Maul has been fantastic, to say the least. The actor's voice work is versatile, seamlessly depicting Maul throughout various points in his life. When it came to creating a distinct voice for Maul, Witwer revealed how he actually drew inspiration from Peter Serafinowicz (who voiced Maul in The Phantom Menace) and Ian McDiarmid's villainous Emperor Palpatine. Here's what Witwer told IGN:
The actor's reasoning makes a lot of sense considering that Maul was Palpatine's apprentice first and foremost, so it stands to reason that Maul "learned a lot of things from Palpatine." Of course, the two had their grievances with each other as well and Palpatine wasn't exactly the nicest of teachers. Who could forget that time that Maul and Palpatine battled each other in Season 6 of Star Wars: The Clone Wars?
No matter how much Sam Witwer was influenced by Ian McDiarmid's role as Emperor Palpatine, there's no doubt that the actor has crafted a unique voice as Maul. I'd even argue that Witwer has done such a good job establishing Maul that it would be weird to hear anyone else voice the character. That's a very impressive accomplishment, if I do say so myself.
Maul ultimately survived Star Wars: The Clone Wars (which was expected considering his appearances in other Star Wars projects). He eventually went on to lead the crime syndicate known as Crimson Dawn before eventually dying after battling Obi-Wan Kenobi in the animated Star Wars Rebels.
Star Wars: The Clone Wars is currently streaming on Disney+. For more on what to watch in the coming months, be sure to check out our 2020 fall TV premiere guide.
Your Daily Blend of Entertainment News
Your Daily Blend of Entertainment News
Thank you for signing up to CinemaBlend. You will receive a verification email shortly.
There was a problem. Please refresh the page and try again.