That Time Jimmy Fallon Got Mugged For Wearing A Silver Jacket At 3 A.M.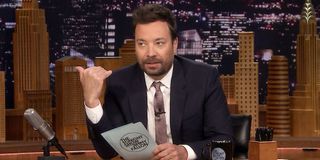 Everyone runs the risk of facing dangers when they're out and about and, sadly, one of the everyday challenges people face is the risk of being mugged. And this same risk also extends to celebrities, many of which have had their own unfortunate encounters with someone who's stolen from them. Stars like Supernatural alum Misha Collins and rapper 2 Chainz can attest to this. You can also count The Tonight Show host Jimmy Fallon in this group, as he recently recalled being mugged while wearing a silver jacket in the early hours of the morning.
Jimmy Fallon remembered that early in his career, Hugo Boss sent him the "metal silver" attire and how he decided to go out to a bar in New York around 3 a.m. This would ultimately lead to a very interesting encounter with a group of guys who attempted to swipe the jacket:
So everything turned out relatively fine… I guess? Jimmy Fallon's story on Late Night with Seth Meyers is far from your typical mugging situation. In most cases, the persons seeking to steal the items don't typically back off. However, it would appear that Fallon's somewhat unconventional reaction turned them off.
Regardless of why they decided not to take the jacket, it's good to hear Jimmy Fallon wasn't harmed during the ordeal. And most would probably agree with Fallon's decision not to wear the jacket again, at least, unless it was truly safe to do so.
Many people know there's a real chance they can be mugged or robbed whenever they leave the house, and many celebrities, despite their star status, are fully aware as well. In fact, Jamie Foxx is so cognizant of it that he's even offered advice to people on how to avoid being robbed. His suggestion is to avoid posting on social media about your location and the things you own. While he presented this bit of wisdom in a somewhat hilarious fashion, it's definitely keen advice for anyone to follow.
Aside from deciding not to wear the jacket again, one would assume that Jimmy Fallon has found other ways to avoid being mugged. Because honestly, not everyone is going to be like the muggers he encountered.
Keep it here at CinemaBlend for more news from the world of TV and film.
Your Daily Blend of Entertainment News
Covering superheroes, sci-fi, comedy, and almost anything else in film and TV. I eat more pizza than the Teenage Mutant Ninja Turtles.
Your Daily Blend of Entertainment News
Thank you for signing up to CinemaBlend. You will receive a verification email shortly.
There was a problem. Please refresh the page and try again.