Supernatural Star Misha Collins Reportedly Attacked And Mugged At Convention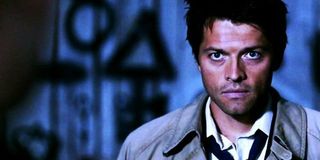 Something strange is always happening at fan conventions. Usually it involves Buffy the Vampire Slayer's Nicholas Brendon getting drunk and causing a scene. But this time around, Supernatural star Misha Collins was apparently minding his own business when somebody mugged him. Collins allegedly sustained some minor injuries, but he was so shaken up that he cancelled his appearance at a panel alongside co-stars Jared Padalecki, Jensen Ackles and Mark Sheppard. Where were the Winchester boys when the altercation went down?
The news broke (via Us Magazine) when Supernatural co-star Jim Beaver wrote in a post on Facebook that Collins was followed out of a restaurant in Minneapolis by three men, was beaten and robbed. The post also said that he sustained minor injuries with some stitches and a fat lip, but would still attend the convention. Beaver's post was soon deleted, but not without fans noticing and taking to Twitter to share their support and worry for the actor. That's when Collins was prompted to respond.
Collins did not elaborate any further on the matter of the mugging, so it is not clear exactly what happened. And since Beaver's post was deleted, it seems as though Collins really doesn't want the incident to be publicly shared. But, since the actor missed his Supernatural panel, obviously his fans were worried. And then when another Supernatural actor tweeted this, well then Twitter got extra involved.
Of course with the massive fandom Supernatural has created over the span of 10 seasons Twitter soon erupted with the hashtag #WeLoveYouMisha. And it sounds like everyone's well wishes were much appreciated. Also, considering Collins' remains in town for the convention, seems like he really is doing just fine.
Your Daily Blend of Entertainment News
Your Daily Blend of Entertainment News
Thank you for signing up to CinemaBlend. You will receive a verification email shortly.
There was a problem. Please refresh the page and try again.