Kim Kardashian Was Robbed And Held At Gunpoint This Weekend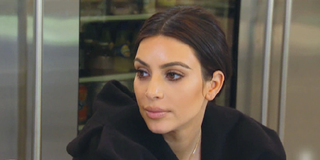 (Image credit: Keeping Up With the Kardashians)
Kim Kardashian had a terrifying encounter in her Paris hotel room on Sunday night. The reality star's room was invaded by robbers who held her at gunpoint while robbing her of millions of dollars in jewelry. Thankfully, Kardashian made it out of the incident unharmed.
A group of five gunmen threatened the hotel's concierge to open Kim Kardashian's room, and then two of the gunmen handcuffed Kardashian, taped her mouth shut, and put her in the bathtub, TMZ reports. As Kardashian was begging for her life, bringing up that she is the mother to two children, the robbers made off with her jewelry box, which held over $10 million in valuables.
After the incident, Kim Kardashian reported that she was very shaken, though physically unharmed. Across the pond, Kardashian's husband Kanye West was informed of the robbery while in the middle of his concert at The Meadows Music & Arts Festival in New York. A member of West's team pulled him aside during the show to tell him what had happened, and West immediately ended his set and left the concert, saying:
On Monday morning, Kim Kardashian was reunited with Kanye West at Teterboro airport in New Jersey, E! News reports. They then head off to their New York City apartment together, joined by a number of security guards. Reportedly, Kardashian was "hysterical" while describing the robbery to her husband on the phone, and the traumatic event has shaken her to the point where she's called it the "worst day of her life."
Apparently, Kim Kardashian was without her usual security on Sunday night because her half sister Kendall Jenner was arriving that day and her main security guard was sent to shadow her, since Kim had already turned in for the night in her room. Ironically enough, Kardashian had just posted a photo with her head bodyguard Pascal Duvier just hours before the robbery, joking that he was always in her shot. Earlier in the week, Duvier tackled a red carpet nuisance who had attempted to kiss Kardashian's butt.
Kim Kardashian had been in Paris for Paris Fashion Week, joined by momager Kris Jenner and sister Kourtney Kardashian. Kris Jenner left the city with her daughter following the robbery.
Your Daily Blend of Entertainment News