Star Wars Fan May Have Figured Out Where Moff Gideon Is Hiding Out With Baby Yoda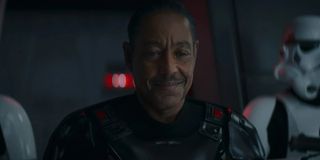 Spoilers for The Mandalorian's latest episode – "Chapter 15: The Believer" – lie ahead.
The Mandalorian Season 2 has been nothing short of amazing, as it's provided fans with plenty of great moments that have expanded the show's mythology and hinted at greater events within Star Wars lore. Of course, all good things must come to an end, and the season is set to air its highly anticipated finale later this week. There are a number of questions going into the season's final episode, with one being the location of the villainous Moff Gideon and the kidnapped Grogu (Baby Yoda). Though now, it would seem that a hardcore fan may have just deduced the Imperial officer's location.
In the show's latest episode, Din Djarin, Cara Dune, Boba Fett, Fennec Shand and convict Migs Mayfield journeyed to Morak to infiltrate an Imperial mining hub and access a terminal that could provide Moff Gideon's location. During the scene in which Djarin manages to obtain the info, viewers got a quick glimpse of a map, which marked Gideon's location. Unfortunately, the image only contained dots and didn't explicitly name locations.
This, however, didn't seem to be a problem for the Star Wars Theory YouTube channel, which appears to have landed on a potential location for the Moff and powerful infant. Using the quick screenshot from the show and a Star Wars map, they've determined that Moff Gideon could be hiding on Nar Shadda, a moon of the planet Nal Hutta. The moon is known to be filled with illegal activity and honestly makes Tatoonie's Mos Eisley look like a paradise by comparison. With so much "lively" activity on Nar Shadda as is, it's believed that it would be easy for Gideon to settle there and have his experiments remain under the radar.
Interestingly, Star Wars Theory also brings up a fact regarding the franchise's Legends canon. This label is comprised of the comic books and novels that were originally released after the original trilogy. The channel mentions that, in the Legends continuity, Leia Organa and Han Solo were actually on Nar Shadda during the exact point in time The Mandalorian is currently covering. Not only that, but Boba Fett was also on the moon, where he would come into conflict with Han Solo once again.
All of these assertions should be taken with a grain of salt right now, but it can't be denied that this is some seriously critical thinking. Nar Shadda would definitely be the perfect place for Gideon to hide and, given the illegal activity that goes down there, he could have business dealings related to Grogu. The fact that Boba Fett was also on the planet around this time in the original continuity is also an interesting coincidence, or is it? And while the chances of Leia and Han showing up in the finale are probably slim, it's not crazy to think that another major face could show up to end the season with a serious bang.
One thing that is for sure is that based on Mando's message to Gideon at the end of "The Believer," he's willing to risk it all to rescue Grogu. And if this theory proves to be correct, that could even mean braving the dangers of Nar Shadda.
The Mandalorian's season finale premieres Friday, December 18, on Disney+.
Covering superheroes, sci-fi, comedy, and almost anything else in film and TV. I eat more pizza than the Teenage Mutant Ninja Turtles.
Your Daily Blend of Entertainment News
Thank you for signing up to CinemaBlend. You will receive a verification email shortly.
There was a problem. Please refresh the page and try again.