The Stand's Stephen King Reveals His Favorite TV Project, And It's An Unexpected Choice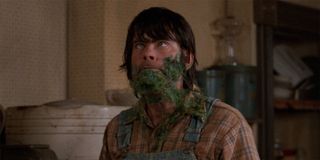 If you were to ask a room full of 20 Stephen King fans what their favorite TV project from the author is, there's a chance that you could 20 different answers. The Master of Horror's works have been seen as terrific fodder for the small screen ever since Tobe Hooper's Salem's Lot first aired in late 1979, and it's a legacy that includes fantastic titles like Tommy Lee Wallace's IT from 1990, Mick Garris' The Stand from 1994, and Bridget Carpenter's 11.22.63 from 2016. Every Constant Reader has their own preference, but if there's one title that the author himself feels deserving of being singled out, it's Craig R. Baxley's excellent Storm Of The Century – which he has now named as his favorite of all his ventures on television.
With a new adaptation of The Stand set to launch on CBS All Access this week, Stephen King recently did a focused retrospective interview with The New York Times reflecting on his career in the medium, and when it came time to discuss his last TV project before the end of the 20th century he lavished it with praise. Though he had some blunt things to say about some other ventures – saying he doesn't care for 1993's The Tommyknockers "at all," and that he isn't "delighted" with how 2002's Rose Red turned out – he very much still loves Storm Of The Century. Said King,
Airing in three parts between February 14 and February 18 in 1999, Storm Of The Century was a miniseries written directly for the screen by Stephen King – making it one of his few film and television projects that didn't start as a novel, novella, or short story. The story is entirely set on the fictional Little Tall Island off the coast of Maine, and begins with residents bracing themselves for what is predicted to be a horrific thunderstorm. What they are entirely unable to prepare for, however, is the arrival of a sinister stranger named Andre Linoge, who makes his presence known among people in the town by murdering an elderly woman and taking up residence in her house.
When Linoge is discovered, he is arrested and brought to the police station, but at that point the terror is only starting to ramp up on the island. As horrific incidents begin to break out, the mysterious antagonist cryptically lets his motives be known, repeatedly saying, "Give me what I want, and I'll go away."
To echo Stephen King's sentiments, Storm Of The Century truly is one of the best representations of the writer's work in the television medium, with Colm Feore possessing tangible intensity and menace that heightens the atmosphere of the whole four hour-plus experience. It's an underrated gem, and more than two decades after its release it's understandable that King has real appreciation for it.
If you now find yourself curious about watching Storm Of The Century for yourself, the only bad news is that it's not the easiest piece of media to track down. It isn't available on any streaming service, or to purchase/rent from any digital retailer. It hasn't even gotten a proper Blu-ray release. Sadly, the only way to actually watch the miniseries right now is to purchase it on DVD (opens in new tab), and the extreme downside there is that the whole thing is printed on a single flipper disc that you actually have to eject and turn over about halfway through watching. The plus side is that there is a commentary track featuring both Stephen King and director Craig R. Baxley, but it's definitely not an optimal presentation.
What would be amazing is if these new quotes from Stephen King could somehow make the current situation change. Now that the writer has identified The Storm Of The Century as his favorite among all of his small screen projects, perhaps that will inspire whoever has the rights to the miniseries to actually do something with it – be it simply make it available online, or perhaps get it restored and put out on the Blu-ray market. Regardless of what ends up happening or doesn't happen, you should do yourself and hunt it down, as it's well worth it.
Your Daily Blend of Entertainment News
Assistant Managing Editor
NJ native who calls LA home and lives in a Dreamatorium. A decade-plus CinemaBlend veteran who is endlessly enthusiastic about the career he's dreamt of since seventh grade.
Your Daily Blend of Entertainment News
Thank you for signing up to CinemaBlend. You will receive a verification email shortly.
There was a problem. Please refresh the page and try again.