11 Horror TV Shows Stephen King Has Praised Over The Past Few Years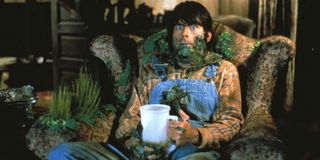 As one of the most famous names in horror (The King, if you will), Stephen King knows how to scare the Dickens out of people. But outside of his volumes of work, which amounts to nearly 90 books in total at this point in the game, he's simply a horror aficionado who likes to get the willies shaken out of him. As much as he loves rousing a few scares out of his readers, he likes to be scared even more, which results in the famous author watching lots of horror shows in his free time, away from the page.
Certainly, as an acclaimed, best-selling writer with many classic tales accredited to his name, Stephen King has a loyal fanbase, and he knows how to spread the word if there's something he really likes on the tube. Therefore, there are several instances where he has praised a new/recent horror series. Here are 11 of his recommendations.
Marianne (2019)
Unfortunately, there's a good chance you haven't seen — or maybe even heard of — Netflix's Marianne. While the freaky French horror series received glowing praise, it didn't gain much notice when Marianne premiered last September, resulting in the streaming service canceling it after only one season. But if you were left in the dark about this scary show, it wasn't for a lack of trying on Stephen King's part. The author was certainly a fan, and he made a point to champion it to his six million-plus Twitter followers. The writer compared the series not only to Stranger Things but to his own work — though he does so "modestly." It's not easy to scare the horror writer, but Marianne got under his skin quite fiercely.
Alas, despite Stephen King's heaps of praise, Marianne didn't find its way. But you can still check it out on Netflix.
The Haunting Of Hill House (2018)
Writer/director/creator Mike Flanagan's The Haunting of Hill House, based on Shirley Jackson's classic 1957 novel, received no shortage of admirers when it premiered on Netflix in 2018. And Stephen King wasn't shy in his affections, either. He not only thought it was "great," but he hailed it as being "close to a work of genius." Certainly, Flanagan's an incredibly big fan of King's work, adapting Gerald's Game and Doctor Sleep to strong success. Likewise, King is a fan of the filmmaker.
Here's what King wrote:
Dracula (2020)
There are quite a few adaptations of Bram Stoker's Dracula out there. Some are better than others, admittedly, but one that earned some blood-thirsty fans was BBC's Dracula, which also premiered on Netflix. That's how Stephen King watched it, and he praised this interpretation for being "smart, involving, and bloody terrific." He made a point to emphasize the terrific bloodiness.
Here's what King said:
NOS4A2 (2019-2020)
Granted, Stephen King is awfully biased here. The source material for AMC's short-lived NOS4A2 came from Joe Hill, i.e. the author's son (who's also a fan). But that didn't stop the proud father from singing his praises for this TV adaptation of his eldest son's best-selling novel of the same (admittedly goofy) name. While the reviews were positive, if not overwhelmingly so, King quickly championed this series not only for being "involving" and "scary," but also for showing the plights and struggles of the working class in admirable, engaging, and narratively-satisfying ways.
Specifically, Stephen King claimed that this angle is one that most network shows "can't or won't do." Therefore, he appreciates NOS4A2 for being willing and able to reflect this side of living for many hard-working Americans who, as King notes, simply wanna be decent folk. Not bad for a show with vampire children and other immortal beings.
Black Summer (2019-Present)
Are you getting a bit sick of zombies? Admittedly, Stephen King is, too. While the Cell author has explored the genre before, he wonders if there are actually any new/fresh/effectively terrifying avenues to take when tackling the braindead killers.
That's why the writer was quickly impressed (and quickly satisfied) with Netflix's Black Summer, which takes zombies to the suburbs and essentially strips them down "to the bone." You gotta love a show that's efficiently lean and mean. Plus, unlike some other shows on this list, it's renewed for a second season.
Here's what King said:
To the Lake (2020)
When it comes to Stephen King's recommendation of To the Lake, the Russian horror series about a deadly virus that's infecting thousands (how very timely), the fast-selling author kept it to the basics. There's a plague, lots of snow, many Russians, and a hell of a lot of vodka-guzzling. But what more did you expect? And, more importantly, what more do you need?
That's definitely good enough for Mr. King, and he admitted as much earlier this month.
The Twilight Zone (2019-Present)
While it's undeniably hard to live up to the legacy of its outstanding predecessor, CBS All Access' The Twilight Zone reboot found its followers, including none other than Stephen King himself.
The modernized take on the ever-popular 1959 anthology series, hosted by executive producer/co-developer Jordan Peele, tackles several topics, including everything from supernatural sightings to fake news to immigration, in creative fashions, similar to its inspiration. Though the reviews suggest that this update on the TV classic doesn't match the heights of its namesake, 2019's Twilight Zone has a fan in the famous best-selling author, who expressed his admiration for this series, particularly Season 1's fifth episode, "The Wunderkind," which isn't subtlety related to our current-standing U.S. President.
Here's what King wrote.
Black Mirror (2011-Present)
There's a good chance you've heard of Black Mirror. Even though there's a new Twilight Zone out there, this series feels more like its modern-day successor. This bleakly compelling, darkly investing show has amassed millions of viewers, especially when Netflix picked it up, and Stephen King is one such fan. Back in 2014, King shared its rousing enthusiasm, calling the British anthology series "terrifying," "funny," and "intelligent."
This is what he wrote:
The Outsider (2020)
There are a lot of Stephen King adaptations out there. Hundreds, in fact — though it can feel like thousands. Not all of them match the power of King's popular texts, though he isn't shy to admit when he thinks one lives up to the page. Earlier this year, HBO debuted The Outsider, a mini-series based on King's 2018 novel. While the show earned its fair share of praise, it was King himself who became one of its most vocal supporters.
He not only expressed his admiration for this adaptation but he considered it "one of the best" dramatic reinterpretations of his work. That's extremely high praise, especially when you consider how many exceptional King adaptations there are out there. Nevertheless, King was especially keen on this one, and he claims that, despite it being a mini-series, it might get renewed. Here's what the author wrote:
Castle Rock (2018-Present)
For Stephen King aficionados, Castle Rock is practically a safe haven. Well, maybe not safe, per se, but you get the idea. It's an anthology series that features various characters, locations, themes, and stories found throughout Stephen King's five decades as a published author, one that undoubtedly delights in its inclusion of numerous distinctive, recognizable references, callbacks, nods, and lifts from King's prolific career. The show won over many fans of the author's well-read work, but what does the man himself think? Does it float his boat? Thankfully, but not surprisingly, King is a mighty big fan of Hulu's celebrated horror show. The creators must've had the biggest sighs of relief upon his warm approval.
On Twitter, Stephen King was quick to note that, while all the easter eggs are fun, Castle Rock works on its own terms, too.
Creepshow (2019-Present)
Based on the 1982 horror-comedy anthology film, which Stephen King wrote (in his screenwriting debut) and starred in, Creepshow keeps the kooky spirit of George A. Romero's movie alive, particularly in its reverence to 1950s-esque EC Comics. While the Shudder show hasn't gotten as much notice as the cult movies that inspired it, Stephen King is a vocal fan, at least. Watching the first two episodes, which includes an adaptation of King's Grey Matters, the writer considered Creepshow (2019) to be "a really excellent reboot" of the film from the late Romero. Furthermore, he's quite fond of Adrienne Barbeau's performance and, of course, all the easter eggs scattered throughout.
Here's what King said:
Other shows that Stephen King has raved about include Servant, Dark, Mindhunter, The Passage, The Good Fight, La Mante, Pine Gap, Fauda, Money Heist, The Stranger, Reckoning, The Morning Show, Game of Thrones, Sons of Anarchy, The 100, Utopia, Bosch, Bordertown, Mr. Mercedes, Emergence, For All Mankind, and The Man in the High Castle.
Do you agree with Mr. King's recommendations? Let us know below!
Will is an entertainment writer based in Pittsburgh, PA. His writing can also be found in The Playlist, Cut Print Film, We Got This Covered, The Young Folks, Slate and other outlets. He also co-hosts the weekly film/TV podcast Cinemaholics with Jon Negroni and he likes to think he's a professional Garfield enthusiast.
Your Daily Blend of Entertainment News
Thank you for signing up to CinemaBlend. You will receive a verification email shortly.
There was a problem. Please refresh the page and try again.