Stephen King Went To The Movie Theater And Says He Feels 'Terrible' About What He Witnessed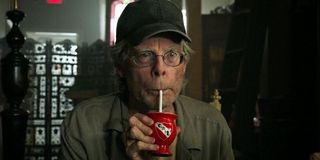 Stephen King might be known as a master horror author, but he's also a big fan of the movies. During this tough time, he's been desperate for a chance to get back into the movie theater again – and he just recently got his chance. Unfortunately, he feels terrible about what he witnessed there.
Of course, Stephen King knows all about scary and spooky things, but it doesn't seem like that was enough to prepare him for his first trip to the cinema since February. The famed author took to social media recently to announce this trip and, man, it sounds rough.
Ouch. Stephen King went to the theater on a Saturday night and it was mostly empty with only four people in the theater. In a normal year, it's likely that theater would be much busier. So, yeah, feeling "terrible" sounds about right.
Movie theaters, of course, have been shut down since March and have only recently reopened, showcasing big blockbusters like Tenet. While the hope was that Tenet would be able to draw enough people back to theaters to keep them open, that seems less and less likely with No Time to Die andWonder Woman 1984 being delayed and Regal Cinemas closing down again.
It's no secret that movie theaters have been hit hard by the global pandemic. With weak ticket sales, the shutdown, and the difficultly revving back up, movie theaters have seen huge losses and could see even more in the future, seeking help from the government and putting into question what the theater experience will be like when all is said and done.
Stephen King isn't the only high-profile celebrity to go back to the theater. When theaters reopened in Europe, Tom Cruise masked up and went to a theater that was showing Tenet. Christopher Nolan did the same out at a Regal Cinemas in Irvine, California, seeing mid-budget films like The Broken Hearts Gallery.
Stephen King has had a longtime stake in the movie industry, with tons of his books being adapted to the big screen. From Carrie to The Shining to Misery, many of his horror films have become revered classics in their own right.
More recently he's been seeing a huge boom in his books being adapted to both TV and the big screen. On the latter front Firestarter will soon be getting the remake treatment, as Zac Efron has signed on to play one of the lead roles and his novel Revival will soon be getting an adaptation from Doctor Sleep and Gerald's Game director Mike Flanagan. Hopefully, by the time those movies are ready to be released Stephen King can go watch them in a theater packed full of people.
Your Daily Blend of Entertainment News