Bridgerton: 6 Major Questions We Hope Season 2 Will Answer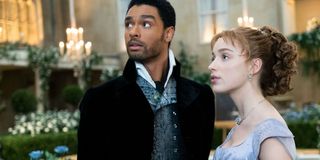 (Image credit: (Netflix))
Ending 2020 with Shondaland and Netflix's steamy Jane Austin-meets-Gossip-Girl television show, Bridgerton ended up to be a super bingeable and fun series to eat right up. Period pieces have always been a great form of escapism, but Bridgerton made for the perfect guilty pleasure over the tail end of the holiday season. If Bridgerton was more closely related to Shonda Rhimes' other hits that live on ABC, we'd be following the tension for months. But alas, the adaptation of Julia Quinn's juicy books hit streaming, we've already raced through its eight episodes and are now left yearning for Bridgerton Season 2.
The second season of Bridgerton has yet to be officially greenlit to continue. But according to Netflix, the Regency-era television series is on track to reach 63 million viewers in its first week on the platform, which is a major, major debut for the series. We'd like to think it's not if but when, and while we wait to find out, let's get into the loose ends from the finale that we hope Season 2 addresses. Needless to say, there will be Bridgerton spoilers ahead, from the TV show. However, there will not be any major spoilers from the books, as we're approaching these questions solely from the TV show perspective.
What's Going To Happen To The Featherington Estate?
One of the biggest bombshells of the Bridgerton finale was the death of Lord Featherington, who was apparently killed after his nasty gambling addiction goes sideways. Now given the shady nature of the patriarch and the nature of series like these, we can't be certain Featherington is 6 feet under until someone digs a grave, but either way it complicates things for the Featherington family. Despite covers of Billie Eilish's "Bad Guy," Bridgerton very much operates on the pretenses of the time period, and that means Lady Featherington cannot hold the estate alone.
In the finale, Lady Featherington is handed a piece of paper regarding who would inherit the estate and her face expression made it clear that she was not elated by the new man of the house. This definitely seems to allude to a major plot point in Season 2 especially since Penelope was discovered to be central to the storytelling of Bridgerton. We expect big changes for the Featherington Estate, but just what that will be is a solid question mark.
Will Anthony Leave Siena Alone And Move On?
Daphne's eldest brother, Anthony Bridgerton, had a major story arc in Season 1 all around. He started as a protective older brother character, but evolved into a key part of the social season's drama and scandal. By the end of the season, Bridgerton had taken part in a secret love affair with Siena that ends in tears when she decides to break things off with him due to their differing social standings.
It was a sad ending for Anthony, but Season 2 could be a major step into the spotlight for the eldest Bridgerton. If the television show follows in line with the books straightforwardly, the main focus of the series may turn to him instead of Daphne and Simon since each book turns its focus on another Bridgerton. In this context, we'd imagine it's all over between Anthony and Siena, but it's not always easy to leave things cut and dry when matters of love are on the line.
Was Marina's Decision To Marry Sir Philip The Right One?
Season 1 was no stroll through the park for Marina, and moving forward we'd like Bridgerton to continue her storyline, because there is a lot going on there that needs to be seen through. The finale saw Marina being offered marriage by the brother of George Crane, Sir Philip, who does somewhat of a pity proposal to Marina after George fathered her soon-to-be first born and then died in battle.
Marina's last-minute marriage was abrupt and we still don't know much about who Sir Philip is and if his intentions with her are pure. She supposedly has a nice place to stay and raise her child, but will his storyline turn out to be daydream or nightmare for the young lady? Her fate feels so vague, hopefully Season 2 will provide some clarity.
Do Penelope And Colin Still Have A Chance At Love?
One of the most adorable (yet sad) flirtations in Bridgerton is between Penelope Featherington and Colin Bridgerton, a couple of the more younger socialites in the series. When Colin and Marina did not work out, it seemed like there might be some hope for these two. Penelope even mustered up the courage to finally tell him of her interest in him, but when she went to tell him he had his own news to divulge. Colin let Penelope know that he's going off to tour Europe and a disappointed Penelope decided to remain quiet about her affections.
As it stands, hope for these two seems slim considering the distance they will be from each other. But on the other hand, Colin may secretly be into Penelope too, considering he told her about his trip. Penelope's fate into the second season is unclear considering what's up in the air about her living situation and her Lady Whistledown antics, but there could be a road to love for them? We're trying to stay optimistic here! In the very least we hope we follow Colin abroad.
Will Having Kids Change Daphne And Simon's Dynamic In The Series?
The majority of the first season of Bridgerton focused on the intense and passionate love story of Simon Basset and Daphne Bridgerton, as their friendship blossomed into love for one another and later a marriage and fiery honeymoon. They had a lot to work through during this season, but it ended with them both accepting love from each other and having a child together. Now that they've reached their "happily ever after" so to say, we're curious about how that will change their dynamic going forward with Season 2.
As mentioned before, in the Bridgerton novels it's not all about Daphne and Simon all the time, and the series will likely follow this model by focusing the storyline a bit away from the couple we fell in love with in this binge. We'd imagine Bridgerton would still follow this couple to some degree moving forward, but will the show leave out sex scenes between the couple now that they are hitched and parents after they were so central to the show?
Will The Identity Of Lady Whistledown Be Exposed To Anyone?
The final major question for the hour is about Bridgerton's narrator, Lady Whistledown. In a shocking move, the series revealed the character voiced by Julie Andrews to be none-other-than shy Penelope. This certainly positions something interesting between Penelope and her best friend Eloise Bridgerton, who has made her main mission to figure out who the writer is. With the secret out as an audience, we're curious how that will change the show and if there will be a Season 2 plotline about Penelope being found out in any capacity.
There's a lot to look forward to from Bridgerton if the show continues over on Netflix. While we wait, check out what's new to the streaming platform in January and stick with us, your very own Lady Whistledown of movie and TV news.
Your Daily Blend of Entertainment News
YA genre tribute. Horror May Queen. Word webslinger. All her writing should be read in Sarah Connor's Terminator 2 voice over.