Bridgerton Star Breaks Down One Of Season 1's Most Swoon-Worthy Scenes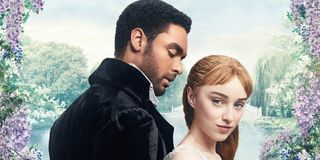 Warning: MAJOR SPOILERS AHEAD for Netflix's Bridgerton.
Bridgerton has finally arrived on Netflix with eight episodes of sparks flying, scandal, seduction, and everything in between. At the core of the series, however, is the complicated love story of Simon and Daphne, whose fake relationship accidentally turned into a true romance. The romance between a brooding bachelor of a duke struggling with his past and a debutante looking for a love match resulted in no shortage of scenes worth swooning over, but there is one in particular that was a game-changer, and a Bridgerton star spoke with CinemaBlend to break it down.
After Daphne finally convinced Simon that she would rather marry him than let him duel her brother, they discovered that their plans for a hasty wedding hit a snag thanks to none other than Queen Charlotte. It fell to Daphne and Simon to try and convince the Queen that they needed to marry as soon as possible. When Daphne's attempt to spin a story of love at first sight was obviously failing, Simon came forward to tell the Queen the truth about their fake relationship turning to friendship turning to love.
Although Daphne didn't know that Simon was sincere in anything other than a desire to get Queen Charlotte's approval for their marriage license at the time, the Queen was convinced by Simon's impassioned and seriously swoon-worthy speech. Golda Rosheuvel, who plays Queen Charlotte for Bridgerton, broke down the scene of Simon and Daphne appealing for royal help. As it turns out, there's a reason why it was so easy for Charlotte to come across as especially regal. Rosheuvel shared:
Shortly before Bridgerton visited Lancaster House to film the dramatic scene between Queen Charlotte and Simon and Daphne, the real-life Queen Elizabeth II was hosting dignitaries in the very same building. What better place for Bridgerton's Queen to pass royal judgment on two subjects than in an actual royal residence? The platform for Queen Charlotte's throne was new, and certainly made her all the more imposing.
That said, viewers know that the scene wasn't just a stone cold Queen Charlotte listening to Simon's speech without any kind of reaction, and they know the reason why. An earlier scene had shown the warm relationship between Charlotte and King George, but the touching moment turned tragic when George had an outburst, revealing that his health struggles throughout the series relate to his mental health.
Golda Rosheuvel explained how Charlotte's decision following Simon's plea was informed by her relationship with George, telling me:
Where Daphne's invented romantic platitudes about love at first sight fell flat for the Queen, Simon saying that their love is founded on friendship convinced Charlotte to give Daphne the ultimate choice about whether or not she wanted to marry. The scene not only advanced Simon and Daphne's relationship, but provided a rare glimpse of Charlotte showing vulnerability in the company of others.
When I noted that Charlotte is guarded so much of the time in front of others with the exception of the King, Golda Rosheuvel elaborated on her approach to that part of the Queen's life:
Unfortunately for Queen Charlotte, her heartache with King George's condition isn't one of the complications that could simply be cleared up by the end of the season with some communication. She still faces the task of holding the throne of Great Britain with the King alive but ailing, so there was some bitter to go with the sweetness of the happy ending for Daphne and Simon. Golda Rosheuvel shared what she'd like to see for Charlotte if Bridgerton gets a Season 2:
While viewers learned in the Season 1 finale that Lady Whistledown (voiced by Julie Andrews) was actually none other than Penelope Featherington, the characters are all still in the dark. Eloise Bridgerton was on the case, as was the Queen, so it would make sense if Penelope's secret gets out in the event of a second season, but only time will tell.
You can find all eight episodes of Bridgerton Season 1 streaming on Netflix (opens in new tab) now. For what's on the way in the new year, be sure to check out our 2021 Netflix premiere schedule and our 2021 winter and spring premiere guide.
Resident of One Chicago, Bachelor Nation, and Cleveland. Has opinions about crossovers, Star Wars, and superheroes. Will not time travel.
Your Daily Blend of Entertainment News
Thank you for signing up to CinemaBlend. You will receive a verification email shortly.
There was a problem. Please refresh the page and try again.