Why Cobra Kai's Creators Wanted To Fix An Aspect Of Ali's Story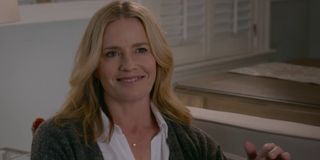 Cobra Kai Season 3 is a love letter to fans of The Karate Kid. While the show deftly adds to the mythology of the original films, it also honors them with callbacks and appearances from past characters. Elisabeth Shue's Ali Mills was one of the familiar faces fans had been hoping to see and, when she finally appeared this season, she did not disappoint. One reason for this is that the show's creators managed to fix a key part of Ali's story.
Elisabeth Shue's Ali Mills originally appeared in 1984's The Karate Kid as a love interest for Ralph Macchio's Daniel LaRusso. Their romance is one of the things fans love most about that original movie and, by the end of it, the two were still together. However, Shue did not appear in the 1986 sequel, The Karate Kid Part II. As a result, Ali was hastily written out, with the film establishing that she had left Daniel for a UCLA football player. Not only that, but it was said that Ali damaged Daniel's car in an accident.
Many fans were somewhat unsatisfied with this ending for Ali. Cobra Kai co-creator Hayden Schlossberg recently explained that he and his collaborators were also displeased with this development and sought to think of a way to correct it:
Co-creator Jon Hurwitz echoed Schlossberg's sentiments when they spoke with Insider. They just knew they had to provide a fix for this aspect of Ali's story if they were to bring her back for Cobra Kai:
When Ali and Daniel's breakup is mentioned, Ali explains that the UCLA player was actually a friend, though Daniel thought it was more and got jealous. It was also explained that the car accident only happened because Daniel never replaced the brake pads, something Ali had previously suggested he do.
Elisabeth Shue's appearance on Cobra Kai was a long time coming, and it was a plot point that the creators felt strongly about. Believe it or not, they hadn't even contacted Elisabeth Shue when that Ali tease was featured in the closing moments of the Season 2 finale. Luckily, the actress chose to return because, otherwise, Ali's role would have been replaced with a weird, backup story.
Ali's role in Cobra Kai works for a number of reasons, but it's most impressive because the writers didn't just use her to help push Daniel and Johnny's stories forward. When Ali appears, she has plenty of things going on in her own life, and her encounters with her old friends helps her as well.
The love and care the Cobra Kai producers put into the show is so evident in each installment. With more seasons being planned, it'll be cool to see how they handle the returns of other classic Karate Kid characters.
All three seasons of Cobra Kai are now streaming on Netflix.
Covering superheroes, sci-fi, comedy, and almost anything else in film and TV. I eat more pizza than the Teenage Mutant Ninja Turtles.
Your Daily Blend of Entertainment News
Thank you for signing up to CinemaBlend. You will receive a verification email shortly.
There was a problem. Please refresh the page and try again.