Netflix's We Are: The Brooklyn Saints: 3 Things That Worked And 3 That Didn't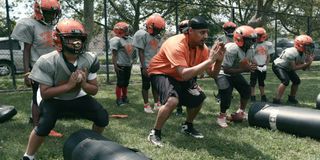 (Image credit: Netflix)
Sports docu-series are all the rage, with shows like Last Chance U, Warriors of Liberty City and Cheer striking a chord with sports fans and non-sports fans alike. Netflix's newest football docs-series, We Are: The Brooklyn Saints, about youth football players falls right in line, as the actual football is secondary to the brotherhood being formed and the struggles of the coaches, players and their families. Director Rudy Valdez shows us animated coaches and players you want to root for, but the series struggles to get below the surface of team chants and handshakes. Below are three things that worked, and three that didn't in Netflix's We Are: The Brooklyn Saints.
What Worked In Netflix's We Are: The Brooklyn Saints
1. The Brooklyn Saints Are A Family.
There's one aspect about the game of football that gets mentioned multiple times in every episode: blocking. That's no accident. Your teammates are your brothers, and if you're watching out for each other, you can't lose. The series is its most successful when it's delving into those relationships. The fathers who just want to be in their sons' lives, and the coaches who love the players like their own children. We see fathers, coaches and players who aren't afraid to cry in front of each other and who proudly say, "I love you." These are real people who make mistakes, but this Netflix docu-series shows men owning up to that; every loss is a lesson learned. Coach Gawuala drives that home in one of his chants, asking his team, "Am I my brother's keeper?" They respond: "You already know."
2. 9U Football Coach Gawuala's Job Search
The 9U football coach, Coach Gawuala, is without a doubt the most animated, entertaining person to watch during the football portions of the series. One member of the Brooklyn Saints program calls him a mascot without the costume. But the docu-series takes viewers into Gawuala's personal life, which is quiet in its instability. Coach Gawuala has lost his maintenance job and is struggling to provide for his family. He knows taking a new job is likely to affect his availability to coach, but he knows the decision he has to make. The emotion in his face is palpable as he prepares for an interview, and the scene when he cries on the phone to a new employer is heart-wrenching.
3. D-Lo's Struggle With His Father's Arrest.
Only a handful of players are featured in We Are: The Brooklyn Saints, and the boy who makes the strongest connection is 9U captain Dalontai Davis, or "D-Lo." D-Lo's father, a coach on the team, is arrested in front of the team just before one of their games. The entire scene, which carries from the end of Episode 2 into Episode 3, is a punch to the gut, with coaches sobbing right alongside the players, and D-Lo's emotions spilling over into frustration on the field. Coach Gawuala holds him as they cry and says it's "you and me against the world." Gawuala tells the team they're going to put D-Lo on their backs and carry him, a sentiment that's brought back in the final game when D-Lo tries to play through an injury.
What Didn't Work In Netflix's We Are: The Brooklyn Saints
1. The Netflix Series Sends Mixed Messages
The series opens with the sobering message about the success of their season not being measured in championships but scholarships. Their goal is to get a free education for every player, and playing football is the means to an end. "Our goal is to make sure every season we save a life," a 13U coach says. Which sounds great on the surface but seemingly runs counter to another of Coach Gawuala's chants, where he asks, "What's rule No. 1?" and they respond, "Have fun!" "Rule No. 2?" "Have fun!" "Rule No. 3?" "Have fun!" While championships may not be the goal, full-ride scholarships don't come easy either, and that's a lot of pressure to put on a group of kids. But don't forget it's just a game.
2. How Injuries Are Handled In Full-Contact Tackle Football
This is no flag football league. The boys are playing full-contact tackle football, and they hit each other hard. There are plenty of tears, and players are taught to help each other up and check on their brothers. But there are a few injuries shown in the series that probably should have required more than just rubbing some dirt on it. One of the 9U players Man Man takes a mean hit to the head. He is shown going through a concussion test with a coach, then Man Man tells the camera, "You always get hit in football." And yeah, that's true, but in this day and age with what is known about concussions and CTE, it's a cringeworthy moment. The issue is addressed by the parents and coaches briefly, as they talk about risk vs. reward, this being the price they pay for the chance at a free education and how they'd prefer broken bones to their boys ending up on the streets.
3. The Football Played By The Brooklyn Saints
We're talking youth football here, so nobody is expecting well-executed strategies and 80-yard touchdown passes. The camera puts viewers right in the middle of the on-field action, which feels expectedly chaotic. Only a few highlights of a handful of games are shown, with a couple of score updates, but viewers aren't going to get a good feel for how a game, or even the season as a whole, went. Also, there are a few dramatic moments in a couple of games, where the music swells, and -- if this were a different movie -- you might think a big comeback or miraculous play were about to happen. But there is no payoff for those editing choices.
We Are: The Brooklyn Saints (opens in new tab) is an emotional series that works best when it's focused on the relationships and the brotherhood and the fathers trying to give their kids better than they had. Fathers and coaches who say "I love you" and emphasize teamwork will warm viewers' souls and provide the little football fix we need going into Super Bowl week.
Be sure to check out our 2021 Netflix TV series premiere schedule to find your next binge, as well as the spring premiere schedule of new and returning shows.
Mom of two and hard-core '90s kid. Unprovoked, will quote Friends in any situation. Thrives on New Orleans Saints football, The West Wing and taco trucks.
Your Daily Blend of Entertainment News
Thank you for signing up to CinemaBlend. You will receive a verification email shortly.
There was a problem. Please refresh the page and try again.