Super Bowl 2021: What To Know About Super Bowl LV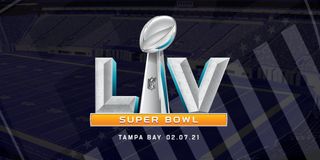 It won't be long now until a large portion of us are sitting around our television screens watching two teams that are more than likely not our favorites go head-to-head for the prestigious Vince Lombardi Trophy at Super Bowl LV. But unlike any other year in the storied history of the biggest sporting event of the year, Super Bowl 2021 is going be a much different experience, one like we've never seen before.
Sure, the best teams in the AFC and NFC will be squaring off to see who will rightfully make their claim as the best team in National Football League, but everything else from how fans will be able to enjoy the game in person to the commercials we see throughout the pop culture event will be affected by the ongoing COVID-19 pandemic. But besides the way the presentation will be changed at Super Bowl LV, we also know some other interesting things of note for the highly anticipated sporting and cultural event, including the 2021 Super Bowl half-time show.
Super Bowl LV Will Kick Off February 7 In Tampa, Florida
When the best in the AFC and NFC meet to determine who will reign supreme over the over 31 teams in the NFL at Super Bowl LV on Sunday, February 7, they will do so at Raymond James Stadium in Tampa, Florida. Kickoff is currently set to for 6:30 p.m. ET (3:30 p.m. PT), but pregame coverage will get underway in the hours leading up to the official start of the game.
The Teams Playing In The 2021 Super Bowl
Representing the AFC in Super Bowl LV will be the defending champions Kansas City Chiefs who will join an elite class of teams to have earned a spot in the big game in two consecutive years. The last team to pull this off was the New England Patriots, who punched a ticket to three consecutive Super Bowls between the 2016 and 2018 NFL seasons. The Pats won two out of three of those games thanks to the heroics of future Hall of Fame quarterback Tom Brady, who, for the first time in his career, will be leading an NFC squad to the Super Bowl with the Tampa Bay Buccaneers.
This will be the Tampa Bay Buccaneers second Super Bowl appearance in franchise history, having blowing out the Oakland Raiders at the Super Bowl XXXVII in 2003. This game, however, will be much different for the NFC wild card squad as they will become the first team in NFL history to play a Super Bowl on their home field as this year's big game is taking place at Raymond James Stadium in Tampa.
The Super Bowl LV Half-Time Show Performance
The annual Pepsi Super Bowl Half-Time Show is one of the biggest draws to the annual sporting event, and this year looks to be no different as award-winning musical artist The Weeknd will be serving as the event's headliner. The Weeknd will be following in the footsteps of artists like Prince, Lady Gaga, and Beyoncé when he steps onto the stage for what might be the biggest performance of his career.
Word of The Weeknd's Super Bowl LV performance was first announced by the NFL in November 2020 with the promotion of the upcoming event going into overdrive during the recent string of postseason games, including the "Get Ready" commercial featuring the Uncut Gems actor's signature song "Blinding Lights" being released by Pepsi in early January 2021.
The Super Bowl Commercial Changes Due To The Pandemic
Those who turn to the Super Bowl not for the game or halftime show typically tune in to catch all of the great commercials that are introduced each year. Viewers watching this year's big game, however, will notice at least two major omissions as Coca-Cola and Pepsi have both announced that they will forgo purchasing extremely expensive ad time in light of the ongoing COVID-19 pandemic.
In January 2021, Variety reported that instead of investing millions of dollars into producing a commercial or the cost of running it during Super Bowl LV, Coca-Cola made the tough decision to invest its resources elsewhere during the ongoing health and financial crisis. The news outlet previously reported that Pepsi had decided to replace its traditional commercial with a special campaign that will lead in to The Weeknd's halftime performance.
Coca-Cola and Pepsi won't be the only two longtime staples of Super Bowl commercials to not run an ad this year as Anheuser-Busch InBev has decided not to air a Budweiser spot this time around. Variety in January 2021 that Budweiser will instead give the money it would have spent to the Ad Council to help with its COVID-19 vaccine awareness campaign. Other brands owned by Anheuser-Busch InBev like Bud Light and Michelob Ultra, will still run commercials in the big game.
A Limited Number Of Fans Will Be Allowed To Watch Super Bowl LV In Person
Raymond James Stadium in Tampa, Florida, previously hosted Super Bowl XXXV and Super Bowl XLIII, but when the big game kicks off on February 7, it will be unlike those two events due to restrictions put in place in light of the COVID-19 pandemic. Going back to the start of the 2020 NFL season, league executives, team officials, and local agencies have been trying to come up with best solution for allowing fans be a part of the experience, although the definite number has yet to be worked out.
In October 2020, ESPN (opens in new tab) reported that the NFL had plans to keep fan capacity to 20-percent for Super Bowl LV with fans sitting in pods separated by six feet of space between each grouping. The league also planned on making masks mandatory for those who did attend. As of January 2021, however, officials in Tampa, Florida, have still yet to decide just how many fans will be allowed into Super Bowl LV, per the Tampa Bay Times.
Where The 2021 Super Bowl Will Air On TV And Streaming
If you are in the camp that can't stand the Fox Sports broadcast team of Joe Buck and Troy Aikman, you are in for some good news as Super Bowl LV will be airing on CBS and will feature the CBS Sports broadcast team of your friend Jim Nantz on play-by-play and Tony Romo serving as the analyst.
You will be able to watch the Super Bowl any way you already watch CBS, meaning traditional cable and satellite, over-the-air antenna, and live TV streaming services like Hulu Live TV and YouTube TV will have you covered for the big game. Those with a CBS All Access subscription will also be able to watch Super Bowl LV on the streaming service.
Super Bowl LV is certainly shaping up to be like no other NFL championship game, but with the potential for some great matchups, a great half-time show, and loads of big-budget commercials, it's going to be one hell of a time.
Philip grew up in Louisiana (not New Orleans) before moving to St. Louis after graduating from Louisiana State University-Shreveport. When he's not writing about movies or television, Philip can be found being chased by his three kids, telling his dogs to stop yelling at the mailman, or yelling about professional wrestling to his wife. If the stars properly align, he will talk about For Love Of The Game being the best baseball movie of all time.
Your Daily Blend of Entertainment News
Thank you for signing up to CinemaBlend. You will receive a verification email shortly.
There was a problem. Please refresh the page and try again.