5 Documentary Series To Watch On Netflix: Our Streaming Recommendations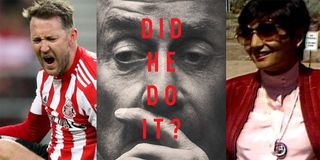 Netflix is the ideal outlet for documentary TV series, aka docuseries. Each episode tends to end on a major moment or revelation, then continues right away to the next chapter, then the next, then the next. You learn something new and are constantly entertained. Vegetables and dessert at the same sitting. I can't get enough.
Netflix has some great documentary films, like the Oscar-winning Icarus, but the streamer also has enough original documentary series to fill several stories. Here are just a few Netflix original docuseries -- plus bonus suggestions under each one -- to consider among the many options out there.
Wild Wild Country
It never fails to surprise me how little I really know about the world. Before watching this six-episode series, I had no knowledge of the true '80s events documented by Chapman and Maclain Way, also the directors of the 2014 documentary film The Battered Bastards of Baseball.
Wild Wild Country follows guru Bhagwan Shree Rajneesh, his many followers, and his fascinating assistant Ma Anand Sheela as they decide to build a new utopia on a ranch site in Oregon. They fight with the locals, fight with the government, and ultimately fight with themselves. The series of events is so bizarre (contaminated salad bars!) it's hard to imagine it really happened, and even harder to imagine how it largely fell out of history. This juicy docuseries is a quick binge, leaving you unsure of any heroes or villains, and most likely curious to know even more about what really happened.
Watch Wild Wild Country on Netflix (opens in new tab).
If you liked Wild Wild Country, watch Evil Genius: The True Story of America's Most Diabolical Bank Heist, following the pizza bomber murder of Brian Wells; and The Keepers (which I couldn't finish because it was just too damn disturbing, might be the Catholic schoolgirl in me).
Sunderland 'Til I Die
I am not a sports buff or an athletic person and I have no personal connection to the Sunderland area of Northern England. But thanks to this sports documentary series I am deeply invested in the Sunderland Association Football Club. I got heart palpitations watching each game across the 8-episode docuseries, following the team's highs and (many) lows, and the fans' reactions. I felt like I got to know the city and the fans and the team. I love them. I root for them. I'm frustrated for and with them.
This is what I look for in a documentary series, of any genre. Hook me in, get me to care, take me somewhere new, and teach me something I never would've known without this exact visual journey.
Watch Sunderland 'Til I Die on Netflix (opens in new tab).
If you liked Sunderland 'Til I Die, watch Last Chance U, following American college football players; Losers, profiling athletes who tried to turn the agony of defeat into triumph; Marching Orders, following a university marching band; Flint Town, following local officers trying to serve and protect urban areas of Flint, Michigan.
7 Days Out
Not sure about you, but a docuseries like 7 Days Out is perfect for me, because each episode delves into a new topic, dropping me into a world I never knew, and then I get to do it all again in the next episode. (See also Explained.) True to the title, each episode follows a major event, starting 7 days before it starts. Season 1's six episodes followed the Westminster Dog Show, NASA's Cassini Mission (that one was my favorite), the Kentucky Derby, a Chanel Haute Couture Fashion Show, a League of Legends tournament, and the opening of Eleven Madison Park restaurant.
I don't tend to gravitate toward the many cooking or food-related docuseries, so I probably wouldn't watch a whole documentary series on opening a restaurant. But give me one episode following the opening of Eleven Madison Park? I'm riveted. I would love more of this. The first six episodes dropped in December 2018. Is it too much to ask for six more this year? Please?
Watch 7 Days Out on Netflix (opens in new tab).
If you liked 7 Days Out, watch Explained, explaining a new topic in each weekly episode, from "Monogamy" and "K-Pop" to "The Racial Wealth Gap," "Weed," and "eSports." That one is already definitely getting a second season on Netflix, after the first 20 episodes premiered last summer. Also check out Our Planet, the beautiful and often disturbing nature series narrated by David Attenborough.
The Staircase
Making a Murderer feels like too obvious to suggest. But this one might qualify as too obvious as well. That's the thing about Netflix docuseries -- they tend to be great, and they tend to get a lot of attention. Not that Netflix even came up with this addictive series. The streamer just added some new episodes in 2018, rebranded it as a Netflix Original Documentary Series, and put the whole shebang out for millions of new obsessed viewers.
"Did he do it?" Netflix promoted The Staircase with that question, imposed on top of a photo of Michael Peterson. I have mixed feelings about the true crime genre, but heaven help me, I was consumed with this case. The Staircase started as a French TV miniseres in 2004, following the case of Peterson, who was accused of murdering his wife Kathleen. Simple set up. But there's still nothing simple about this case. I must've changed my mind on what happened a dozen times, as the story kept adding new details over the episodes and over the years of filming.
To me, The Staircase was more consuming than Making A Murderer, or any other true crime docuseries on Netflix. But there's a reason why you've probably already heard or watched both of these shows. They helped put Netflix on the map as the destination for true crime. Series like this also inspire viewers to go from just watching to looking up podcasts, news stories, and other information to find out what the documentary may have left out. (I'm not buying the owl theory. You?) That's my favorite kind of story.
Watch The Staircase on Netflix (opens in new tab).
If you liked The Staircase, watch Making A Murderer, the now famous/infamous docuseries following the fate of Steven Avery; The Confession Tapes following cases of possible false confessions; The Disappearance of Madeleine McCann, following every step of that frustrating case; and Exhibit A, challenging DNA, videos, and other technical evidence.
The Toys That Made Us
Netflix has plenty of crime, food, political, and nature docuseries to choose from. But sometimes you just want to revel in nostalgia. Cue this docuseries following the history of major toy brands. The four episodes of Season 1 followed Star Wars, Barbie, He-Man, and G.I. Joe. Season 2 delved into Star Trek, Transformers, LEGO, and Hello Kitty. Season 3 is still to come, exploring Power Rangers, Wrestling, My Little Pony, and Teenage Mutant Ninja Turtles. The history of toys is fascinating, illuminating, and unexpected. Go learn a little something about your own childhood.
Watch The Toys That Made Us on Netflix (opens in new tab).
If you liked The Toys That Made Us, watch Perfect Bid: The Contestant Who Knew Too Much (OK, that's a documentary film, not a docuseries, but it fits a nostalgia theme). Also try Nailed It, a lighthearted reality TV show following really bad amateur bakers. It's basically Netflix's own off-kilter take on the phenomenal The Great British Baking Show, which is not a Netflix original, but definitely worth watching right now on Netflix.
What Netflix documentary series would you recommend? Don't forget to check out my previous recommendations for 5 sci-fi shows to watch on Netflix, and 5 British comedy TV shows on Netflix. Plus other random streaming recommendations that actually include Amazon and Hulu as well.
Your Daily Blend of Entertainment News
Gina grew up in Massachusetts and California in her own version of The Parent Trap. She went to three different middle schools, four high schools, and three universities -- including half a year in Perth, Western Australia. She currently lives in a small town in Maine, the kind Stephen King regularly sets terrible things in, so this may be the last you hear from her.
Your Daily Blend of Entertainment News
Thank you for signing up to CinemaBlend. You will receive a verification email shortly.
There was a problem. Please refresh the page and try again.