Tarek El Moussa Responds After Selling Sunset's Heather Rae Young Tattoos His Name On Her, Deletes Pic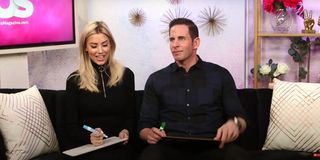 (Image credit: Us Weekly)
You might have heard the phrase "marry in haste, repent in leisure." Well, inquiring minds would like to know if it can be updated to "tattoo in haste, delete from Instagram." Selling Sunset star Heather Rae Young quickly posted and deleted a pic of her new tattoo, despite fiancé Tarek El Moussa's sweet response.
The two are set to be married this year, but Heather Rae Young was looking for something a lot more permanent when she got "Yes sir, Mr. El Moussa" tattooed on her lower hip area. Tarek El Moussa, when asked on Instagram if he liked the tattoo, quickly responded, "yes so much." Young followed up with the royal "we," saying "yes we love it. Proud to be the future Mrs. El Moussa." Check out the photo for yourself down below:
On Heather Rae Young's Twitter account, the Selling Sunset star still has up the link to the now-deleted Instagram post. It is a companied by a message that implies the tattoo was originally a Valentine's Day present for her future husband. Check out the post here:
The question remains, if Heather Rae Young and Tarek El Moussa love the tattoo so much, why delete it from Instagram? Young's attempt to show her undying love and devotion to real estate investor Tarek El Moussa to the masses might have backfired. One can only speculate that the backlash for the tattoo had Young regretting the decision.
The tattoo was immediately criticized by spectators across Heather Rae Young's social media accounts. On Twitter, one user called it "a classy tramp stamp" and another said it "feels stalkerish." In this tweet, the user even questioned Young's decision-making skills and her impending marriage:
Despite the massive reaction online, Heather Rae Young is likely tuning out the haters, backed by the supportive response from Tarek El Moussa. The two are essentially the Queen and King of real estate reality television. Heather Rae Young came to prominence as a real estate agent on Netflix's Selling Sunset. Meanwhile, Tarek El Moussa just wrapped up Season 9 of Flip or Flop with his ex-wife, Christina Anstead.
Days after the tattoo post was deleted, both Heather Ray Young and Tarek El Moussa are showing a united front. Young and El Moussa posted matching Instagram photos in formal attire at The Mission Inn Hotel and Spa, declaring their love for one another. El Moussa captioned by saying:
Clearly, Heather Rae Young and Tarek El Moussa are not shy about sharing their love. So maybe we can change it again from "tattoo in haste, delete from Instagram" to "engaged before Valentine's Day, ignore the singles online."
Freelance writer. Favs: film history, reality TV, astronomy, French fries.
Your Daily Blend of Entertainment News
Thank you for signing up to CinemaBlend. You will receive a verification email shortly.
There was a problem. Please refresh the page and try again.