Tyler Perry's Farewell Play Cast Talks Celebrating Black Culture Through Art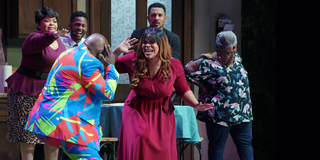 Writer/director Tyler Perry tells African-American stories that are specific to a certain audience. Madea's Farewell Play features many elements of Black culture, such as the African-American Baptist church, hit songs by Black artists like Brian McKnight, and of course the culture-specific jokes. David Mann and Tamela Mann, who portray Mr. Brown and Cora, respectively, shared how they feel getting to celebrate Black culture through their art.
Tyler Perry's Madea's Farewell Play is absolutely hilarious, credited to all members of the cast, but I have to shout out the Manns. As the NAACP Image Award winner for Outstanding Actor In A Comedy Series for the role of Mr. Brown in Meet The Browns, David Mann's character is already well-beloved. He steps it up in Madea's Farewell Play, with Mr. Brown leaving the audience in tears from laughter. Here's what David Mann told CinemaBlend about celebrating Black culture with his work:
Bringing joy to people is an understatement. Let me tell y'all, this play made me so happy I watched it three times, and still re-wound my favorite jokes on the third viewing. As David Mann said, it brings hope. With everything going on in the world, many are beginning to wonder if things will ever return to normal (How is "normal" even defined anymore?). Tyler Perry's Madea's Farewell Play is a refreshing burst of joy reminding us to enjoy the little things and look forward to more happy times ahead.
Grammy award winner Tamela Mann is also no stranger to her character, Cora, which fans have come to love from Tyler Perry's Madea stage plays. Her powerhouse vocals are a welcome addition to the concert at the end of Madea's Farewell Play and will have fans on their feet. She and husband David Mann play off one another's chemistry on stage and both give electrifying performances. The couple elaborated on the joy they bring the world with the following:
The production really is something else. From the costumes to the lights and sound, the entire cast and crew poured a lot of hard work and love into this show and the end result is delightful. Tyler Perry's Madea's Farewell Play is now streaming on BET+.
Obsessed with Hamilton and most things Disney. Gets too attached to TV show characters. Loves a good thriller, but will only tolerate so much blood.
Your Daily Blend of Entertainment News
Thank you for signing up to CinemaBlend. You will receive a verification email shortly.
There was a problem. Please refresh the page and try again.