Why People Need To Relax About All Of These WandaVision Phase Five Theories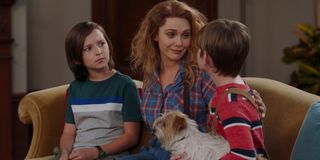 WandaVision was bound to have a lot of eyes on it as not only the first Disney+ MCU series but the first MCU property fans have seen in a while, and it's truly been the buzz of the internet over the past two months. Fans (and writers) have excitedly pecked apart any and all details from each episode, hoping to dig up any information they can on what the future holds for Phase 5 of the MCU and beyond.
And yet, with that excitement, WandaVision has also found a good deal of criticism. I've seen the sentiment that the series should establish the Mutants, The Fantastic Four, and loads of other things, and if it doesn't, then what's the point? As the end of the series nears and fans are either wowed or let down by the ending, I think it's time we all take a breath and relax because this show is getting a lot of weight put on it that, frankly, doesn't make sense.
WandaVision Isn't The Only Marvel Project Coming Out In 2021
If WandaVision was the only show or Marvel property we're getting in 2021, I could better understand the feeling that it needs to set up major plot points for the future of the MCU. The reality is it's only the first, and that The Falcon and the Winter Soldier will be airing shortly after the finale, followed by Loki. It has also been teased that the animated What If? series will be coming soon after Loki, so it's possible that's happening in 2021 too.
And to be clear, that's only the Marvel shows with MCU ties that are on the way. On the movie side, we're still expecting Black Widow, Shang-Chi and the Legend of Ten Rings, The Eternals, and Spider-Man: No Way Home in 2021 as well. Even if some of those dates get bumped, that's a staggering amount of Marvel content after 2020 was mostly an MCU off-year.
So again, the MCU has a lot coming out beyond WandaVision. There's a part of me that has to believe Kevin Feige and crew are saving some key reveals and Easter eggs for some of those projects and would not load it all into its first Disney+ MCU series. WandaVision could be making some game-changing reveal that drastically changes the Marvel universe's landscape, but it also may not, and there are still plenty of other opportunities this year for an announcement of that kind.
Marvel Has Rarely Packed Multiple Major Reveals Into Projects
I've been working my way back through the MCU lately, and if there's one thing I've become astoundingly aware of, it's that the MCU is not one to just drop earth-shattering teases for future projects. I mean, sure, at the time, it seemed really cool when Thanos snatched the Infinity Gauntlet in the post-credits of Age of Ultron and said, "I'll do it myself," but in hindsight, these teases are just a taste of the story that was to come.
Theorizing or assuming WandaVision will create a bunch of New Jersey-based Mutants is a cool thought, but it's noteworthy to point out that it'd also be about the biggest way the MCU has ever promoted a future set of characters in its history. It seems odd that Marvel Studios would choose this series as the place to do that, especially when it's been said the series itself is a vehicle that leads into Doctor Strange in the Multiverse of Madness.
So while it's likely and probable that WandaVision will feature and introduce a relevant character who's new to the MCU, I think it would go against Marvel's style to throw even more into the mix than that. I think most fans know this, but in the year we've all been mostly away from the Marvel machine, we just need a gentle reminder. I can't blame anyone for expecting the most out of the MCU, especially with Avengers: Endgame and Spider-Man: Far From Home being the two latest movies ahead of this long break.
Not Every Series Has To Have Massive Implications To Be Good
I've seen criticism about WandaVision underwhelming due to a general lack of giving fans MCU substance, and while everyone is welcome to their opinion, I have to feel that crowd is missing the point of what the real value in what WandaVision is. This series put a spotlight on Wanda Maximoff, her relationship with Vision, and grief. These characters were given a spotlight they've never seen in the MCU, as will many others in the years to come.
It's a series for people who like the character of Wanda, and the weirder parts of Marvel. I believe the true value in WandaVision is that it can tell a unique Marvel story that has not and likely will not be told in a feature film. Of course, we've all been conditioned to be ready for Easter eggs and big reveals when it comes to the MCU so it's not outrageous to expect something of that nature. I just don't think WandaVision's sole goal was to be a vehicle to many major things happening in Phase 5 of the MCU.
WandaVision is a love letter to classic American television and a complicated tale of showing how one of the world's most powerful superheroes can suffer from grief. It's the kind of storyline that would be right at home in the pages of Marvel Comics, likely as a short miniseries. Sure it may not be for everyone, but when it's contained, it doesn't need to be. All the more reason we shouldn't be wishing up and down and being disappointed if the series doesn't offer up some major game-changing reveal, and just enjoying this special piece of television for what it is.
WandaVision (opens in new tab) airs new episodes on Disney+ Fridays. Those that aren't up on the latest gossip regarding the series can catch up right now by starting with Kevin Feige's honest discussion about whether another prominent actor was in the running for the show's first big cameo.
Mick likes good television, but also reality television. He grew up on Star Wars, DC, Marvel, and pro wrestling and loves to discuss and dissect most of it. He's been writing online for over a decade and never dreamed he'd be in the position he is today.
Your Daily Blend of Entertainment News
Thank you for signing up to CinemaBlend. You will receive a verification email shortly.
There was a problem. Please refresh the page and try again.